The 1939 DeWald Catalin Model 561 "Jewel" is "somewhat obscure and difficult to find" according to Classic Plastic Radios of the 1930's and 1940's author John Sideli.  In fact, he only found one example for his book, a yellow and red model.
When I spotted the below radio on eBay many years ago, I wanted to buy it.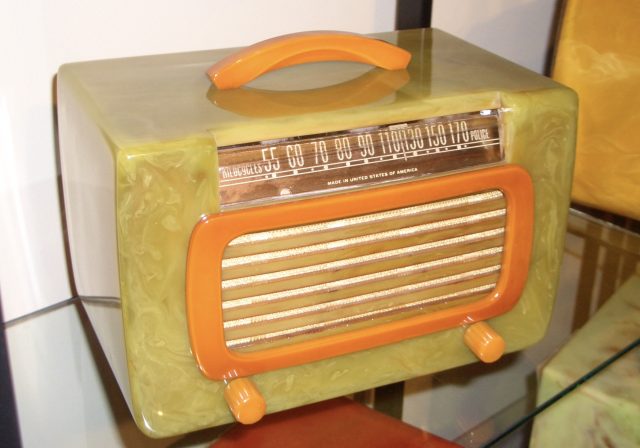 Except it didn't look like that, and it wasn't even listed as a radio.  Instead, it was in multiple listings, because the seller had taken the radio apart, and was selling it in pieces.  There were separate listings for the chassis, the case, the trim ring, the knobs, and the handle.  In order to get the radio, I had to win each auction.  The listing times were very close together, so it had to be done efficiently.  Of course any failure would be problematic.
I won the chassis.  I won the case.  I won the trim ring.  I won the knobs.  I lost the handle.  I had bid enough to win the handle, but there was a technical problem that made my bid late.  So, I contacted the buyer who had won the handle (for a bid that was actually quite low). He gave me a price that was double what the handle was worth, and about eight times what he had paid.  Eventually, I talked him into accepting a large percentage profit, but at about what the handle was worth to someone who needed it to complete a radio (half of what he originally wanted).
The case was perfect, although it had to be polished back to it's original translucent green onyx color.  It came out beautifully.
It's a great radio, but it was a little nerve wracking to buy.  By the way, the seller should have simply sold it in one complete auction, because I got the radio at quite a bargain.  According to Sideli, the DeWald 561 cases came in three colors, Onyx, Maroon, or White (which turned to yellow, or what is often called butterscotch).
This is the only other 561 I owned.  It wasn't as nice as the Onyx, but it's still a model that isn't found in every collection.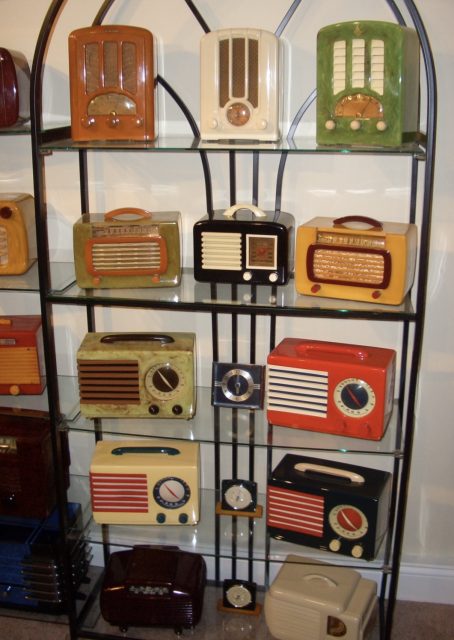 Above is how the two DeWald radios displayed together in about 2006 (click to enlarge).  The DeWald Jewel is about 10" W, 6" H & 5" D.  Here are some of my other Catalin radios by DeWald.
The radios are…a red 1938 A501 "Harp", a brown (with yellow swirls) "Harp", and a 1938 A502 in Sand (with an insert grille).  The only DeWald radio I still have is the red Harp.