Bakelite and Catalin get most of the attention, but Plaskon radios have some of the best designs and colors.  Plaskon was molded with more detail than Catalin, and could be colorful without being painted like Bakelite.  Below are some examples of radios made out of Plaskon.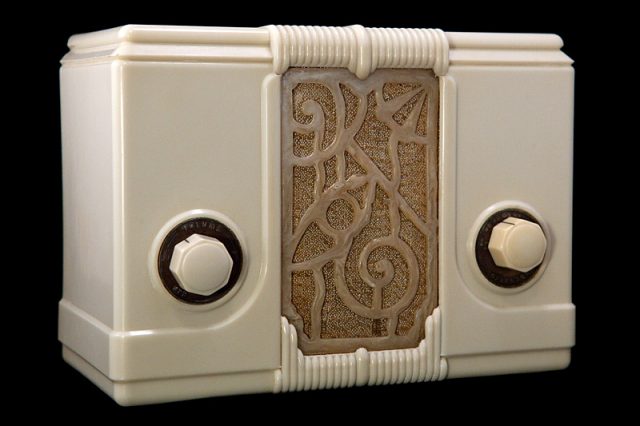 An elegant ivory Plaskon Kadette model 40 "Jewel" from 1935.  It's a small radio, about 7 1/2″ wide by 5 1/2″ high.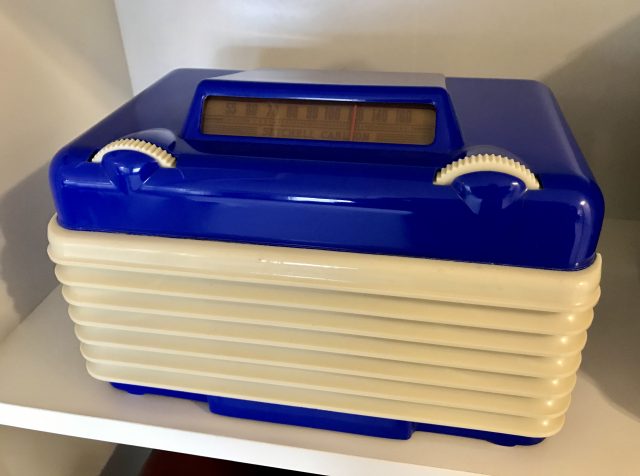 Here's a rare cobalt blue Plaskon 1946 Setchell Carlson model 416.  Sometimes people paint other "Frog Eyes" in these colors, but this is an original model made of blue and ivory Plaskon (not painted).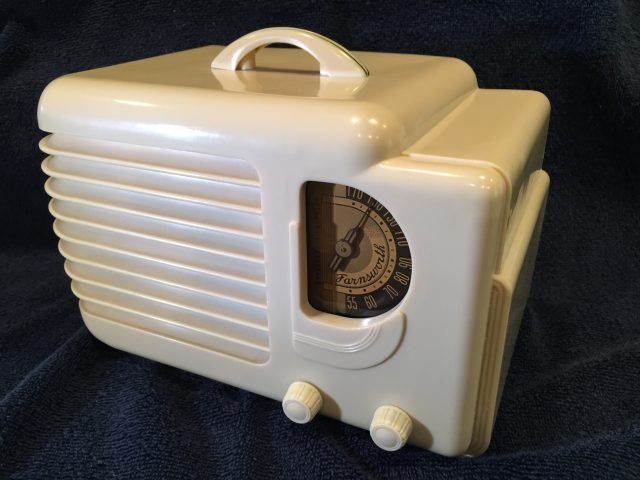 The 1939 Farnsworth AT-11 "D-Dial" is usually seen in brown Bakelite, but the details of the design show up best in ivory Plaskon.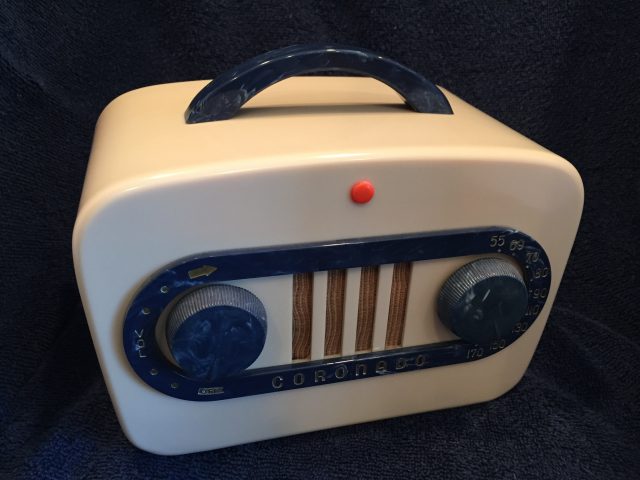 Here's the Plaskon version of a 1947 Coronado "Racetrack", model 43-8190.  It's usually found in painted Bakelite.  The trim is a swirled blue polystyrene plastic that looks similar to Catalin.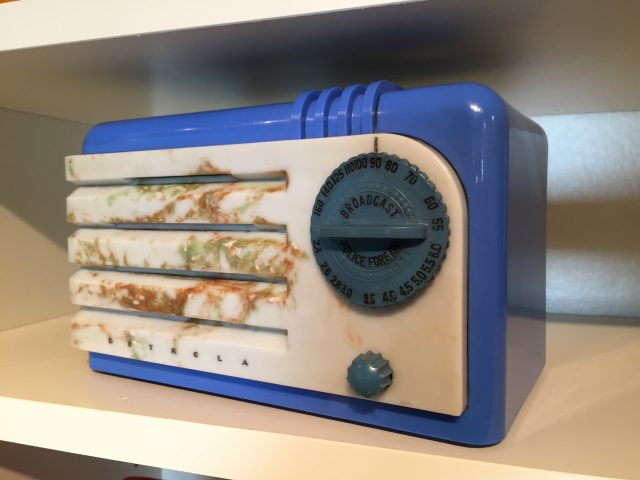 This is another radio with a combination of plastics.  The main case is blue Plaskon, the front is Beetle Plastic, and the knobs seem to be Tenite.  It's a 1939 Detrola model 219 Super Pee Wee.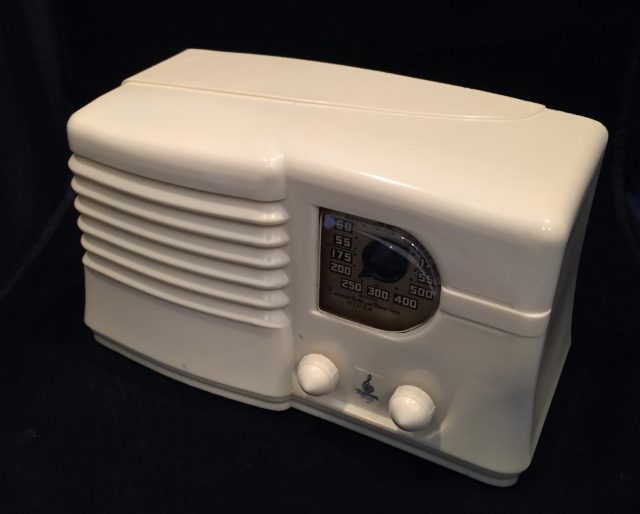 Another small radio is the 1938 Emerson 246 D-Dial.  It has a very stylized Plaskon case, giving it a really cool look.  It uses the same Emerson chassis as the Catalin Little Miracle.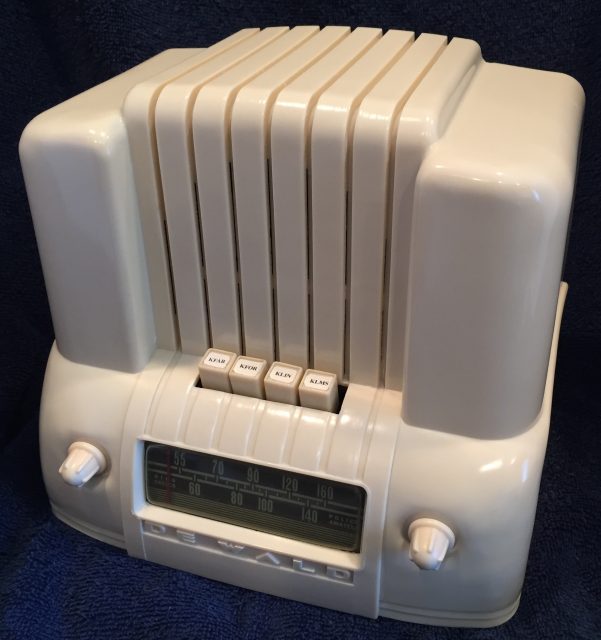 Rarely seen in Plaskon instead of brown Bakelite is the 1938 DeWald model 555 cash register shaped push button radio.  What an original design.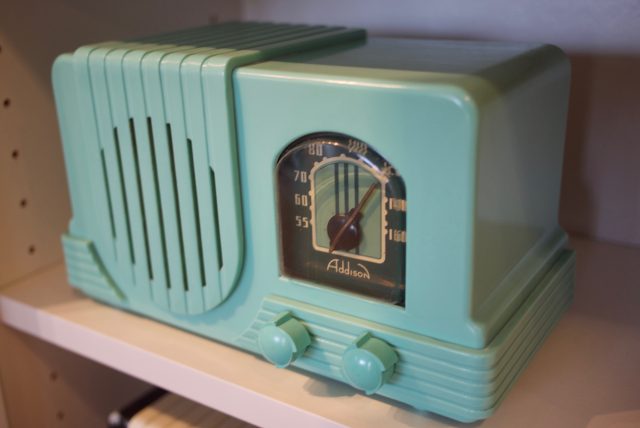 This Addison 2 from 1940 is made of blue/green Plaskon.  Addisons were manufactured in Canada.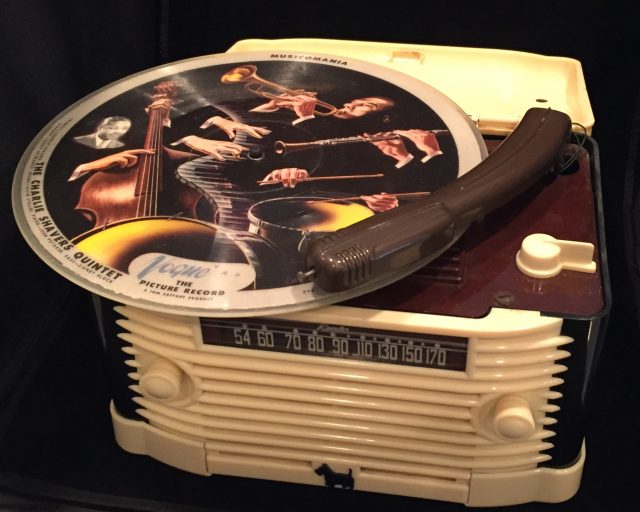 Probably the cleverest and smallest table radio with a record player is this 1947 Remler model 5300.  Much of the radio is ivory Plaskon, but it also incorporates Bakelite.  The lid flips back to allow the 78 rpm records to fit onto a small turntable.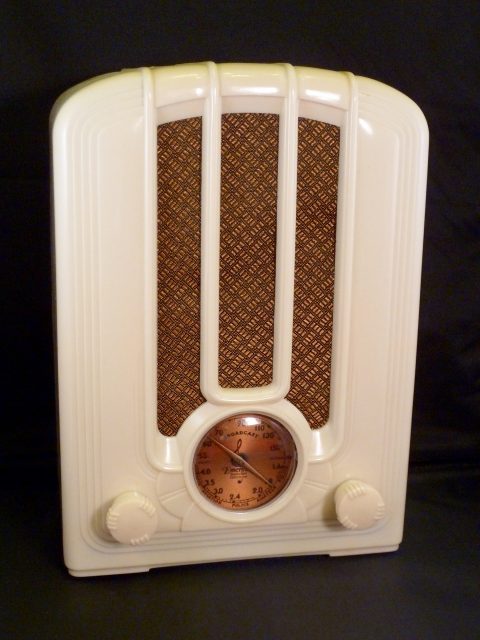 One of the best designed radios ever is this small Emerson tombstone radio, model U5A from 1936.  It's very detailed molded lines are as Deco as they come.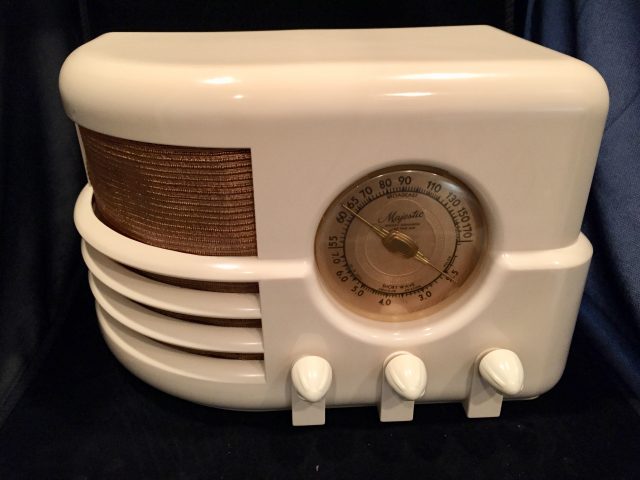 Speaking of Deco, I was given a book about the Deco era, and the only radio they showed in it was this 1937 Majestic model 651 Triple Fin.  Most of these are Bakelite or painted Bakelite, but this one is Plaskon.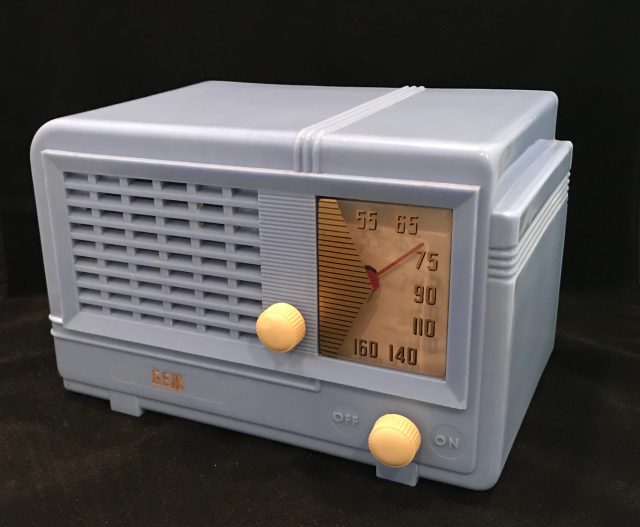 Canada was the source for this light blue Gem radio, model 955.  It was manufactured by the Jewel Radio Company in the 1940's.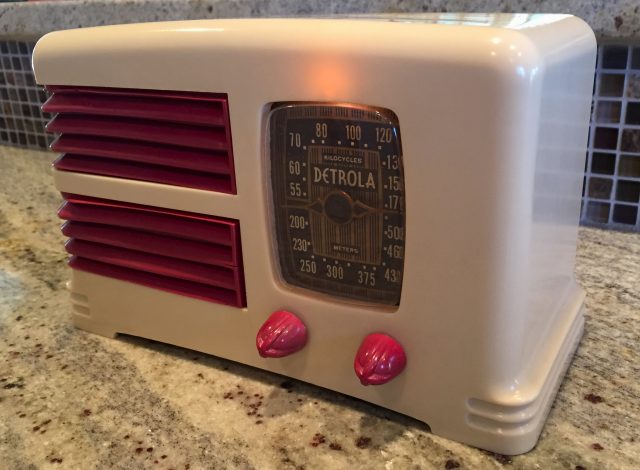 This 1939 Detrola model 274 Split Grille is another small radio with an ivory Plaskon case.  The grille and knobs are colored Tenite.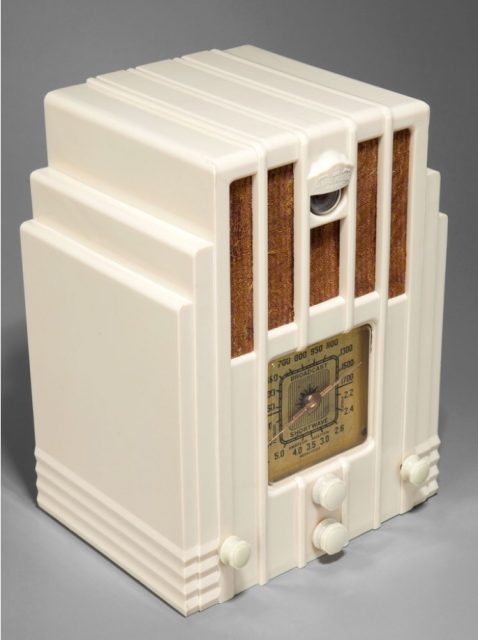 One of the oldest Plaskon designs is the Air King Skyscraper which originated in 1933.  This one, model 770, is from 1937.  It has the speaker opening in the front, instead of on the top like the earlier models.  (Note:  Radio friend G.R. bought this one from me, and took the photo.)
One of the main reasons Plaskon radios can be hard to find is that the cases are pretty thin, making them susceptible to breakage, stress lines and cracks.  Of course their rarity makes them that much more attractive to collectors.