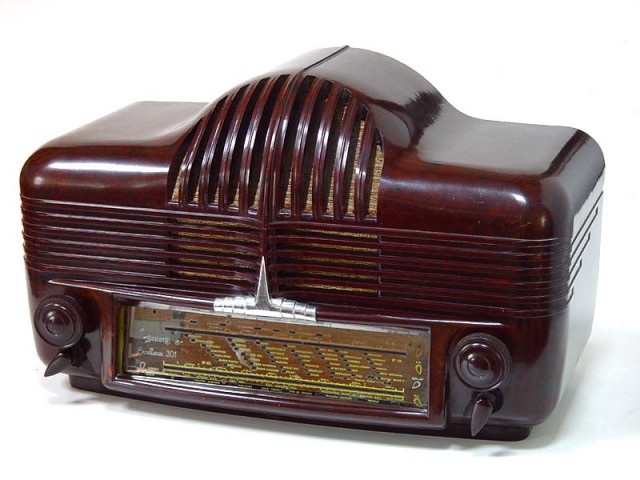 This is a French Sonora Excellence…Model 301…as you can see on the left side of the dial in this photo (click to enlarge).  It's Bakelite case measures a large 18″ wide, 11″ high & 9″ deep.  According to the books "Radio Art" and "Bakelite Style", the Sonora was designed in the United States, produced in France, and is nicknamed the "Cadillac", because of the look of the large grille.  Most articles say this Sonora was produced starting in 1947, with production continuing into the 1950's.  There is also a version of this radio that has a tuning eye as part of the dial display, Model 302.
The most important aspect of collecting for me is the design of the radio case.  The Sonora Excellence really delivers…the rounded corners, the dramatic grille, the sweeping horizontal lines, the touch of chrome, and more.  The Bakelite allows for the intricate design.  A Catalin case would never have this much detail due to the molding and hand-shaping restrictions.  But, the Bakelite is also a negative, because so many of these radios have Bakelite that has been damaged over time.  They tend to look dull and dried out.  I pulled the above image from Google as a "best" example…not dried out like many of them.  These Sonora radios normally sell in the $500 to $1,000 range.
I haven't bought one of these yet, because of the poor condition of the Bakelite on the ones I've seen for sale, and because of the large size.  For comparison, the largest Catalin radio is the RCA 66X "Tuna Boat"…which is 15-inches wide (3-inches smaller than the Sonora).
So, what can you do when you love the design?
Above are two reproduction radios…Tunemaster SM 950's.  They are still fairly large…13-inches wide instead of 18-inches.  The Sharper Image company was looking for a design for a high-quality table radio.  According to the owner's manual, they spotted the original Sonora in a catalog for a Japanese exhibit of Industrial Design.  Naturally they loved the design, and decided to use it for a modern 7-band radio (AM, FM, VHF, Shortwave A & B, Aviation, & Weather).   On the back, it has full-size RCA inputs & outputs, jacks for headphones and speakers, shortwave & FM antenna connections, a BFO switch, a tone control, and a fine-tuning control.  Not a cheap knock-off!
There's not a lot of concise information about this model available, but it was apparently made in 1989, and priced at about $300.
Everyone knows it's best to not play the true vintage radios of the 1930's and 1940's on a regular basis.  The reproduction of the Sonora allows me to use it daily to listen to my favorite stations.  It certainly has good sound, and it fits right in with the display of the "real" radios in my collection.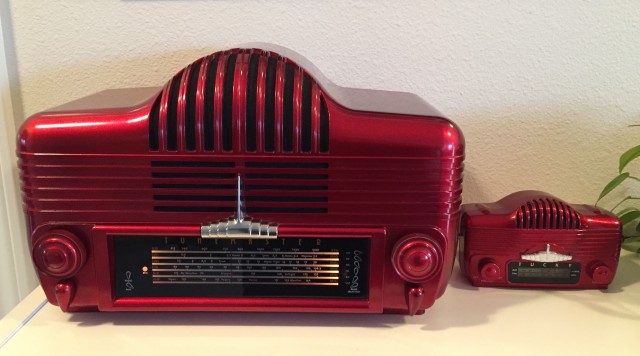 Oh, and the "Tucky" mini-radio works good too!