The Remler Company of San Francisco started making Bakelite parts in 1918, and evolved into manufacturing early radio receivers.  By 1933, they were producing Bakelite and Plaskon table radios.
I never had the earliest models in my collection, but I pulled a couple photos from my Pinterest favorites.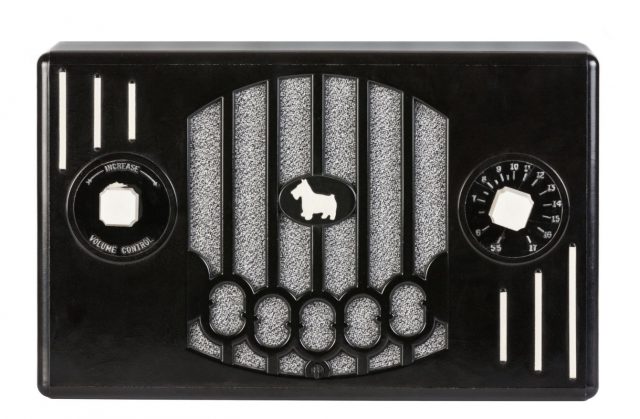 Remler produced this Model 26 in 1933 as their first Bakelite table radio.  They called it "The Scottie".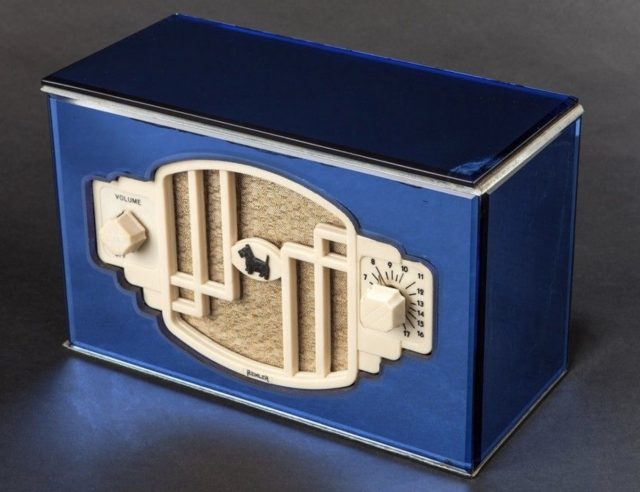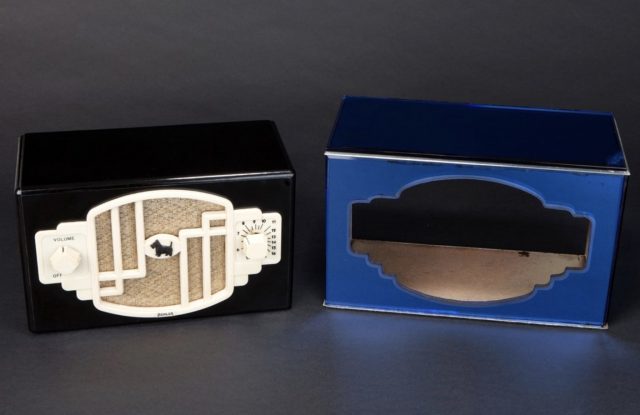 They even had this Deco blue mirror cover that slipped onto the front of a Remler Model 40 in the 1930's.
The Remler company was started by Elmer Cunningham.  The name of the company is his first name backwards, with an added "r" at the end.  When the company started producing plastic table radios in 1933, Scottish Terriers were popular, including one owned by Eleanor Roosevelt.  Plus, Cunningham is a Scottish surname.  So, they used a Scottie dog as the Remler logo.  That cute touch sets them apart from other radios.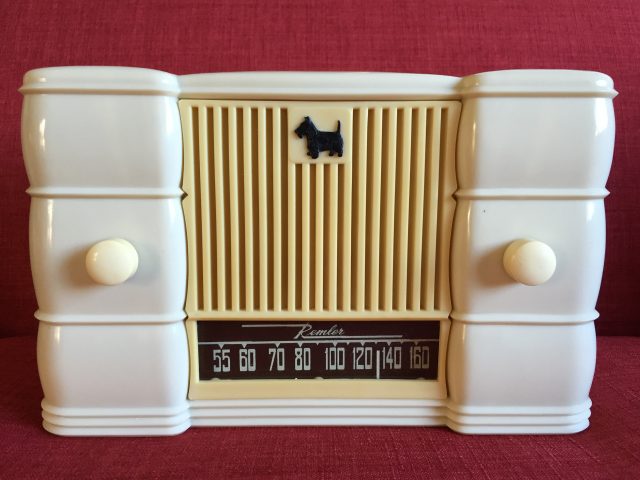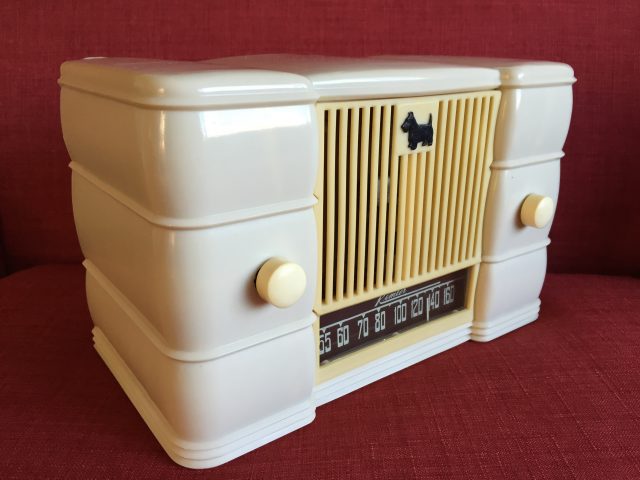 My first Remler was this 1948 "Scottie Pup".  When it was originally released, customers could get the radio in regular brown Bakelite, which they called "Walnut" for $20 (Model 5505), or for $3 more they could get the above "White" (Model 5510), which was made of smooth ivory Plaskon with a bamboo-colored grille.  (With a click you can see the radios more clearly.  The ivory Plaskon is a good one to click first.)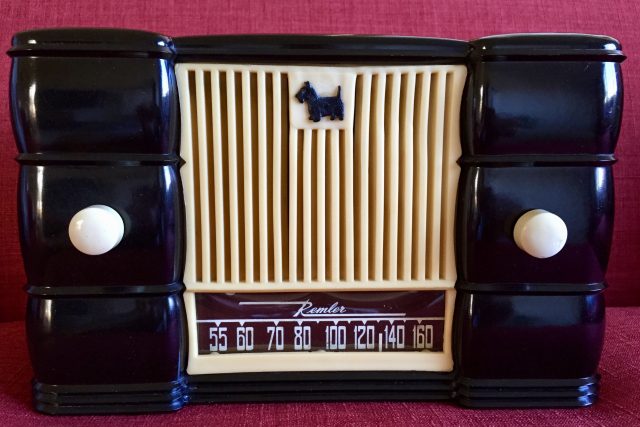 This Remler design became available in black Bakelite.  I acquired the above radio a few years after the Plaskon one.  They have an unusually styled (billowy) case, a dramatically contrasting grille, and the slide dial is uniquely located at the bottom.  This model also had good sound from the five-tube chassis.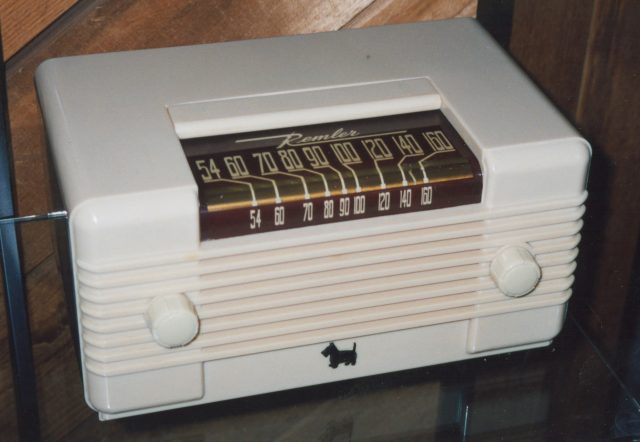 The above radio, Model 6000, (I had years ago) is from 1947.  Remler called it a "Personal Portable" radio.  It had a handle for easy carrying that dropped down when not in use.
Maybe the most unusual Remler is the 1947 Model 5300: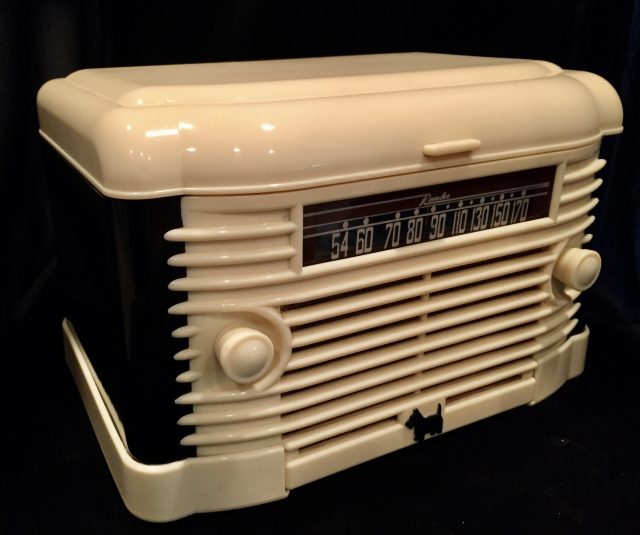 It looks like a fairly normal table radio made of Plaskon and Bakelite, but the top tips back to reveal a turntable.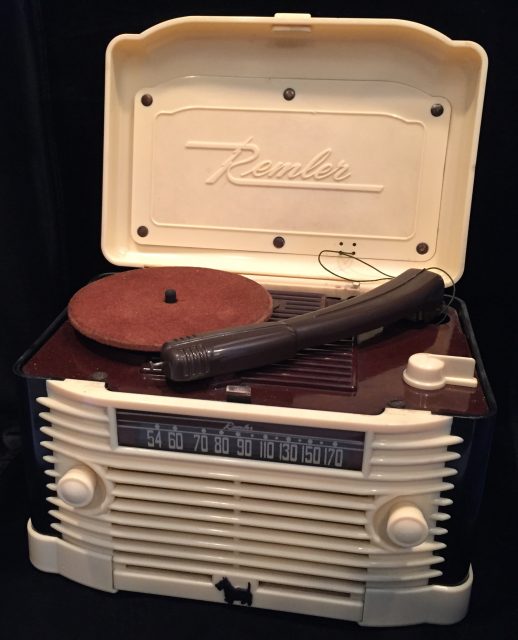 When you laid the lid all the way back, there was room for playing 78 rpm records.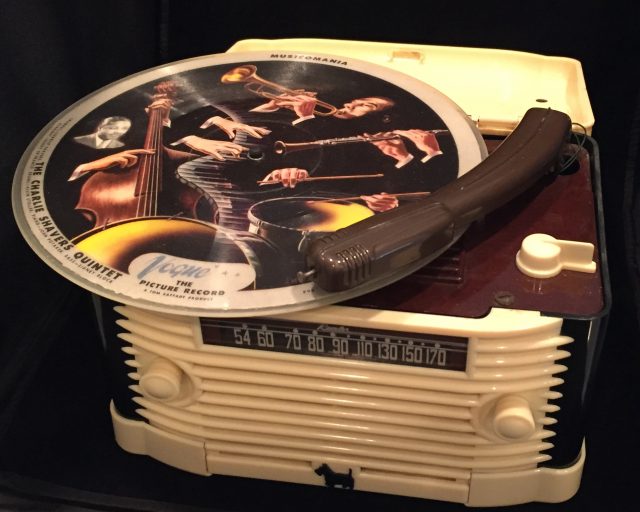 You can see my 10-inch Vogue 78 rpm picture record is actually larger than the top of the radio.  It was a very compact design to be both a radio and a record player.  The radio/phonograph is also quite heavy for its size.  I really liked having these Remlers as part of my collection.
Unfortunately, Remler ceased making radios in the early 1950's, even though they continued making electronic components until 1988.
We're just lucky Remler gave us twenty years of well-designed high-quality plastic table radios that collectors will enjoy for many decades to come.