Most of the below radios are for sale.  (Click to enlarge photo)  
If you're interested in a radio, let me know, and I'll give you a description of the condition, and follow that up with photos if you wish.

philbausch@gmail.com   541-543-3489 (in Oregon)
The price list is below the group photo, and has individual photos of the sale radios (click to enlarge).  Individual photos are removed after a Radio is sold, so the radios still available are easy to spot.
Please forward this post to anyone who is interested in radios.  You should be able to just click on the title of this article, and email it.  Thank you!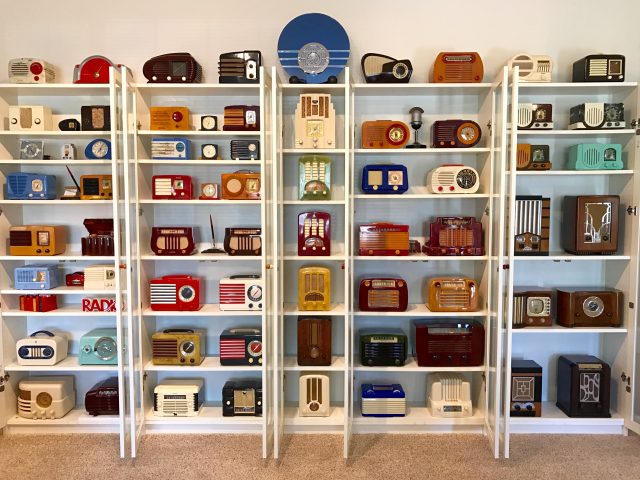 Top of Bookcase:
Swirled Plastic Cavalcade RS1A…Sold
Red & Gray Plaskon Emerson 744B…Sold
Lafayette BB-22…$495 Sold
Philco Boomerang…$495 Sold
Fada Temple butterscotch & red Catalin…$950 Sold
Belmont 519 (all original)…$375 Sold

Black Bakelite & Ivory General Television "A"…$275 Sold
Left Bookcase Section:
Ivory Plaskon Kadette 40 Jewel…$425  Sold
Blue Motorola 51A…$350 Sold
Yellow Catalin Emerson AX235 Little Miracle…$1,500 Sold

Catalin Sentinel 177U (248NT)…$1,600 Sold
GE Catalin Jewel Box…$1,700 Sold

Blue Plaskon Gem 955…$275: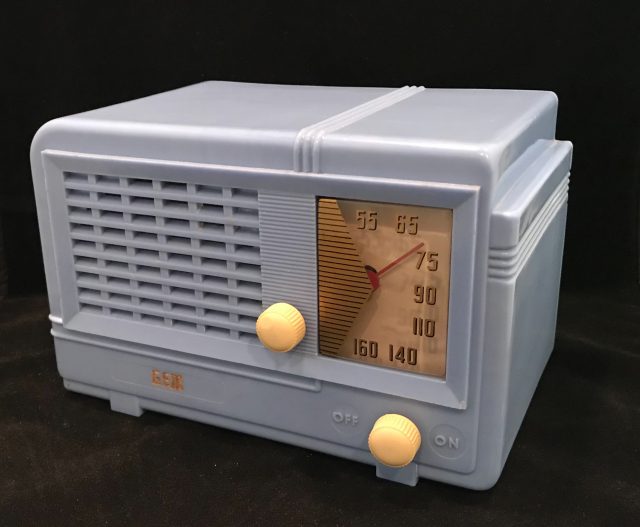 Emerson 246 Plaskon D-Dial…$395: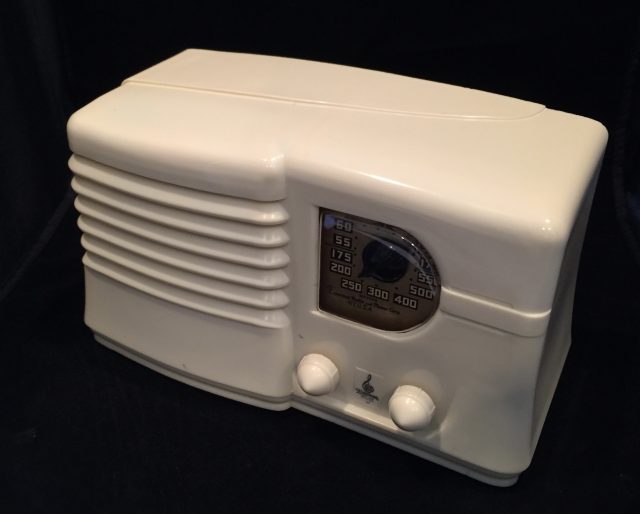 Red Catalin Chip Holder w/200 Catalin chips…$199: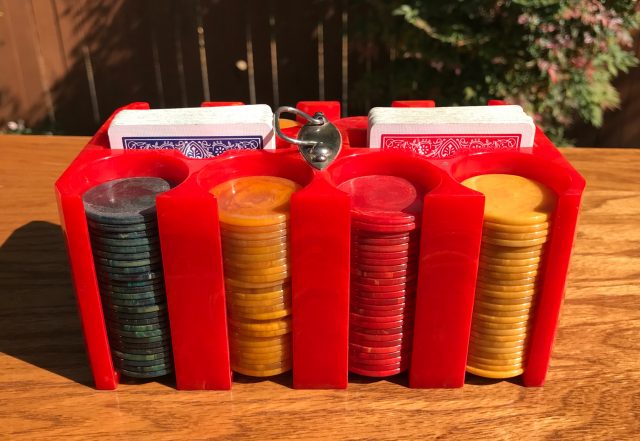 "Radio" Radio…$75 Sold
Plaskon Coronado Racetrack…$399  Sold
Crosley Aqua 10-139 (rarest color, perfect chrome)…$375 Sold
Plaskon Majestic Triple Fin…$425  Sold
Rare Maroon (not brown) Bakelite Majestic "Zephyr"…$249: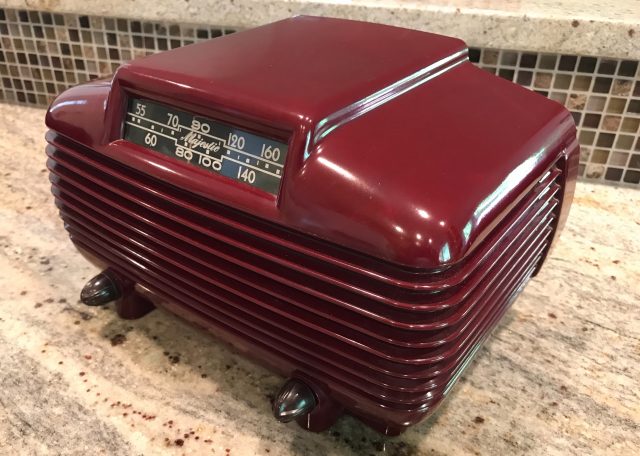 2nd From Left Bookcase Section:
Catalin RCA Little Nipper…$1,100: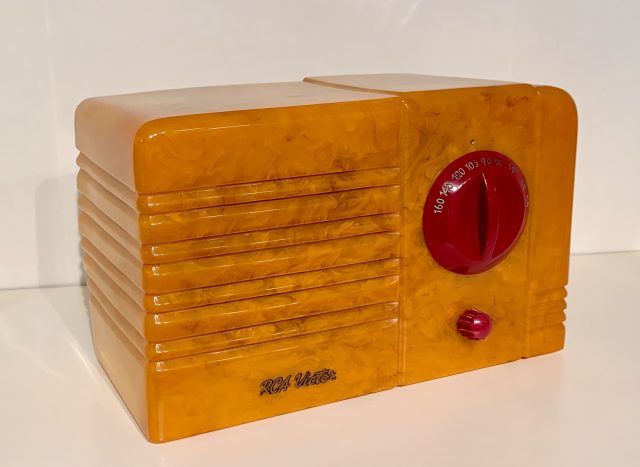 Catalin Crosley Split Grille…$1,800: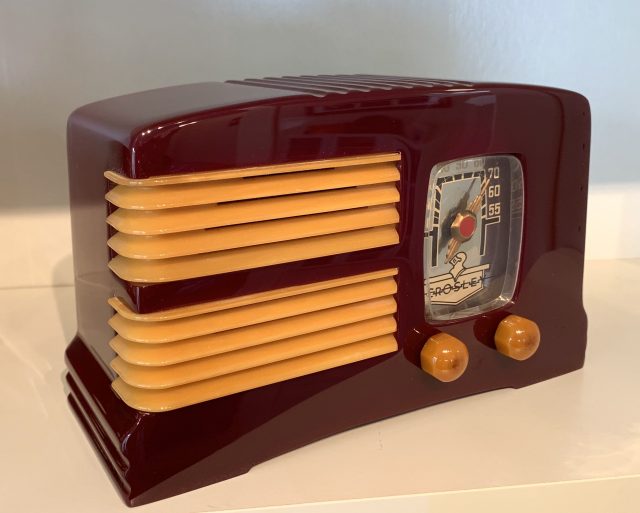 Blue Plaskon Detrola Super Pee Wee…Sold
Bakelite & Ivory Swirl Detrola 218 Pee Wee…$325  Sold
Catalin Motorola Circle Grille…$2,200  Sold
Catalin Oxblood Red DeWald Harp…Sold
Catalin Brown & Swirl DeWald Harp…$750 Sold
White Catalin Emerson Patriot…$775 Sold
Green Catalin Aristocrat Sold
Blue Catalin Emerson Patriot…$1,200 Sold

Remler Plaskon & Bakelite radio/phonograph…$595  Sold
Remler Black Bakelite & Ivory 5505…$375 Sold
 Center Section:
Air King "Skyscraper"…Sold
Green Catalin Emerson BT-245 Tombstone…$2,800…Sold
 4th From Left Bookcase Section:
Maroon & Butterscotch Catalin Fada Bullet…Sold
Blue Fada 1005…NFS
Red & Butterscotch Catalin Garod Commander…$1,200: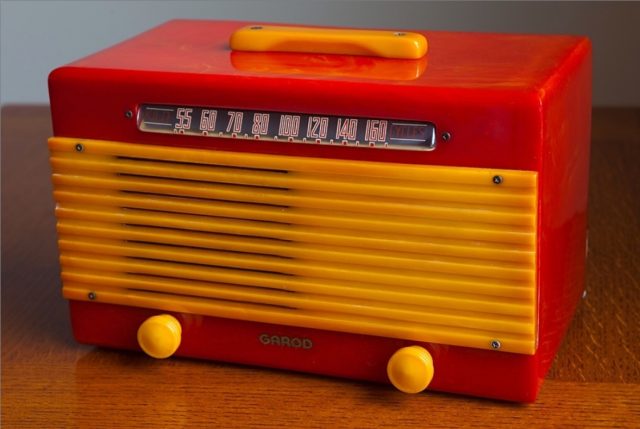 Red Catalin Addison 5 Courthouse (all original)…$2,400 Sold
Red Catalin Sentinel 284 Wavy Grille…$1,900 Sold

Green & Black Catalin Bendix…Sold
Red Catalin RCA 66X8…$695 Sold
Blue & Ivory Plaskon Setchell Carlson…Sold
Plaskon DeWald 555 Cash Register…$595 Sold
 5th From Left Bookcase Section:
Maroon Bakelite & Ivory Plaskon Addison 2…NFS
Catalin Green & Butterscotch Addison 2…$375 (damaged) Sold
Blue/Green Plaskon Addison 2…$1,200  Sold
Majestic Studio 59 Chrome Grille…$735 (original wood finish, restored electronics) Sold
Grunow 450 with perfect Chrome Grille…$395 Sold
World's Fair Glass Rod Zenith…$595 Sold
Wood Majestic Duo Moderne Chrome Grille…Sold
Wood Jewel R-188 Chrome Grille…Sold
 Not shown in group photo:
Wood Addison 5 Courthouse…$375 Sold
Blue Crosley Bullseye 11-101-U…$195 Sold
Replica of Sonora Excellence 301 by Sharper Image…$75 Sold
 All radios…Buyer pays shipping