Most of the below radios were for sale.  (Click to enlarge photo)  
I'm leaving this post just as a reference, since many of the prices still show.

philbausch@gmail.com   541-543-3489 (in Oregon)
The price list below shows you the radios that were for sale.  At this point, most of the radios are sold, and I have about 25 radios left that are not for sale at this time.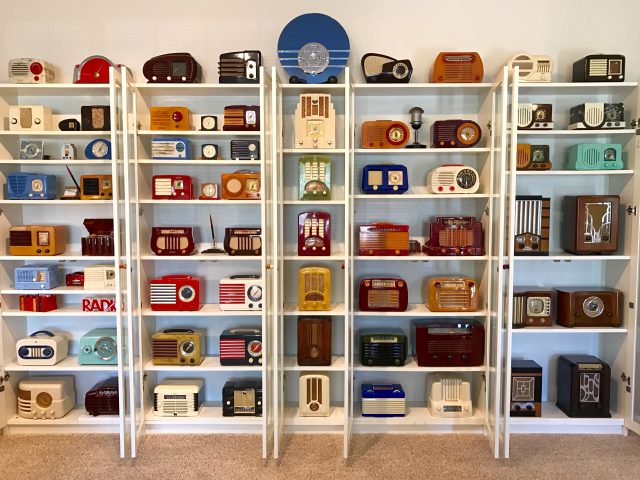 Top of Bookcase:
Swirled Plastic Cavalcade RS1A…Sold
Red & Gray Plaskon Emerson 744B…Sold
Lafayette BB-22…$495 Sold
Philco Boomerang…$495 Sold
Fada Temple butterscotch & red Catalin…$950 Sold
Belmont 519 (all original)…$375 Sold

Black Bakelite & Ivory General Television "A"…$275 Sold
Left Bookcase Section:
Ivory Plaskon Kadette 40 Jewel…$425  Sold
Blue Motorola 51A…$350 Sold
Yellow Catalin Emerson AX235 Little Miracle…$1,500 Sold

Catalin Sentinel 177U (248NT)…$1,600 Sold
GE Catalin Jewel Box…$1,700 Sold

Blue Plaskon Gem 955…$325 NFS
Emerson 246 Plaskon D-Dial…$425 NFS
Red Catalin Chip Holder w/200 Catalin chips…$199 NFS
"Radio" Radio…$75 Sold
Plaskon Coronado Racetrack…$399  Sold
Crosley Aqua 10-139 (rarest color, perfect chrome)…$375 Sold
Plaskon Majestic Triple Fin…$425  Sold
Rare Maroon (not brown) Bakelite Majestic "Zephyr"…$249 NFS
 2nd From Left Bookcase Section:
Catalin RCA Little Nipper…$1,100 NFS
Catalin Crosley Split Grille…$1,800 NFS
Blue Plaskon Detrola Super Pee Wee…Sold
Bakelite & Ivory Swirl Detrola 218 Pee Wee…$325  Sold
Catalin Motorola Circle Grille…$2,200  Sold
Catalin Oxblood Red DeWald Harp…NFS
Catalin Brown & Swirl DeWald Harp…$750 Sold
White Catalin Emerson Patriot…$775 Sold
Green Catalin Aristocrat Sold
Blue Catalin Emerson Patriot…$1,200 Sold

Remler Plaskon & Bakelite radio/phonograph…$595  Sold
Remler Black Bakelite & Ivory 5505…$375 Sold
 Center Section:
Air King "Skyscraper"…Sold
Green Catalin Emerson BT-245 Tombstone…$2,800…Sold
 4th From Left Bookcase Section:
Maroon & Butterscotch Catalin Fada Bullet…Sold
Blue Fada 1005…NFS
Red & Butterscotch Catalin Garod Commander…$1,200 NFS
Red Catalin Addison 5 Courthouse (all original)…$2,400 Sold
Red Catalin Sentinel 284 Wavy Grille…$1,900 Sold

Green & Black Catalin Bendix…$695 Sold
Red Catalin RCA 66X8…$695 Sold
Blue & Ivory Plaskon Setchell Carlson…Sold
Plaskon DeWald 555 Cash Register…$595 Sold
 5th From Left Bookcase Section:
Maroon Bakelite & Ivory Plaskon Addison 2…NFS
Catalin Green & Butterscotch Addison 2…$375 (damaged) Sold
Blue/Green Plaskon Addison 2…$1,200  Sold
Majestic Studio 59 Chrome Grille…$735 (original wood finish, restored electronics) Sold
Grunow 450 with perfect Chrome Grille…$395 Sold
World's Fair Glass Rod Zenith…$595 Sold
Wood Majestic Duo Moderne Chrome Grille…$325 Sold
Wood Jewel R-188 Chrome Grille…$495 Sold
 Not shown in group photo:
Wood Addison 5 Courthouse…$375 Sold
Blue Crosley Bullseye 11-101-U…$195 Sold
Replica of Sonora Excellence 301 by Sharper Image…$75 Sold
 All radios…Buyer pays shipping