An Associate Editor of the Food Network Magazine recently called me about using some of my radios for an article.  Their Pioneer Woman magazine is featuring Bakelite and Catalin collectibles, and they requested photographs of some of my radios that are displayed on this site.  (Photos can be made clearer and larger with a "click".)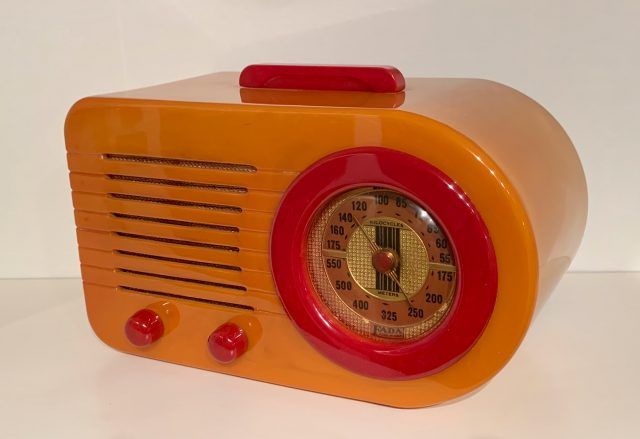 1940 Fada "Bullet" Model 115 (made of Catalin plastic)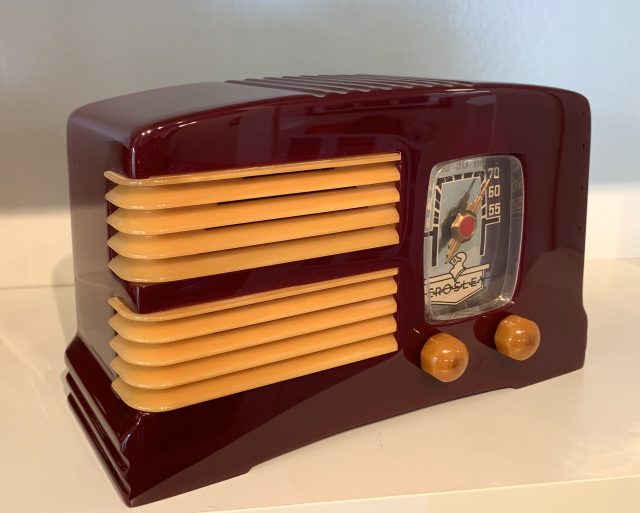 1938 Crosley "Split Grille" Model G1465 (Catalin)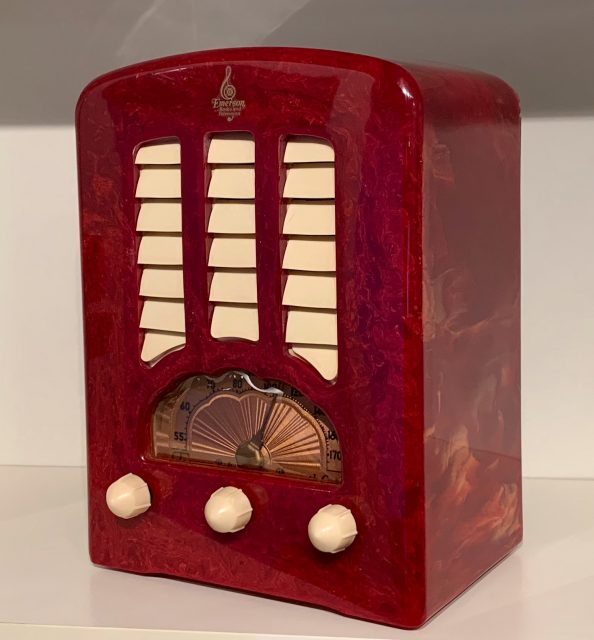 1938 Emerson "Tombstone" Model BT 245 (Catalin)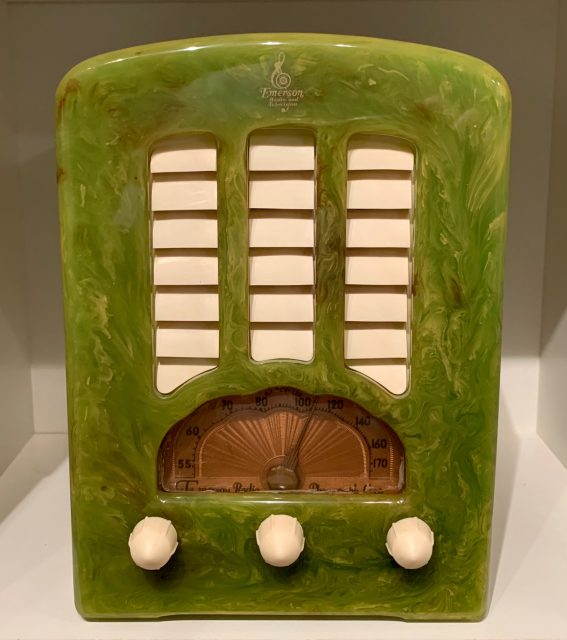 1938 Emerson "Tombstone" Model BT 245 (Catalin)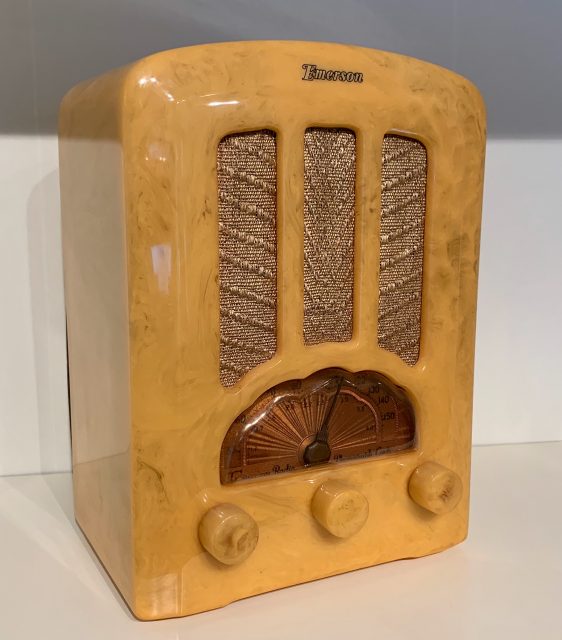 1937 Emerson "Tombstone" Model AU 190 (Catalin)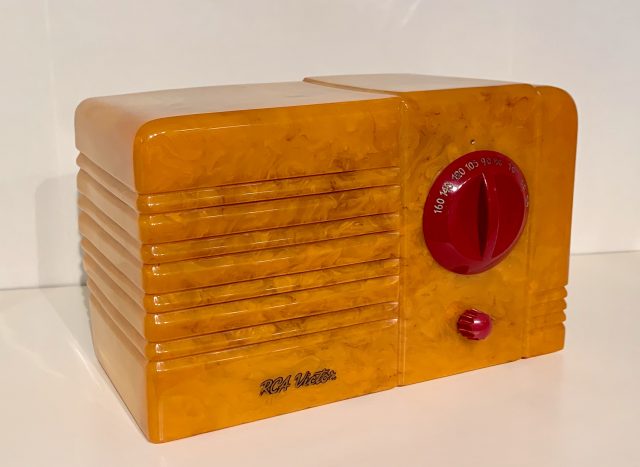 1939 RCA "Little Nipper" Model 9TX4 (Catalin)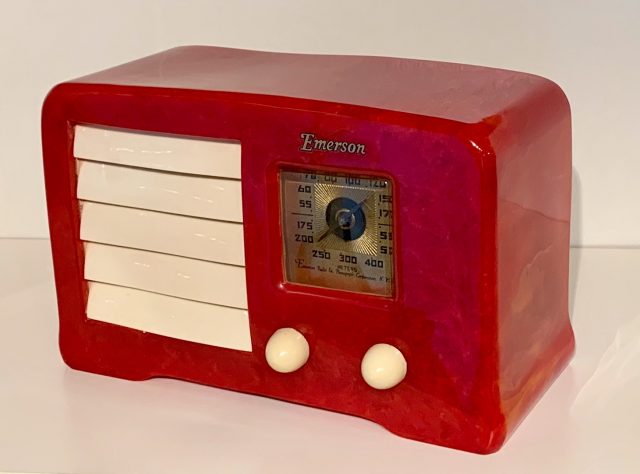 1938 Emerson "Little Miracle" Model AX235 (Catalin)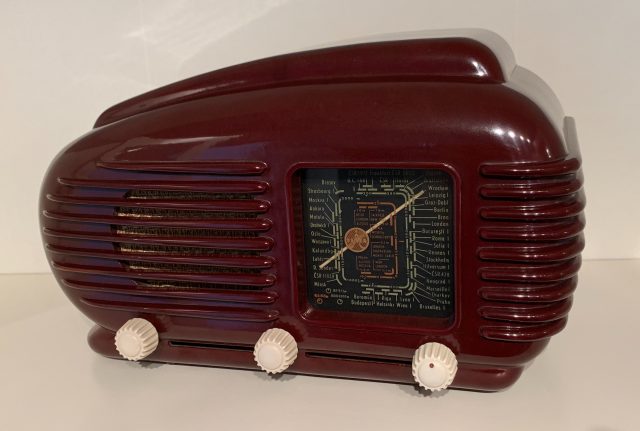 Tesla Talisman Model 308U (Bakelite, '40's design made in '50's)
Above are the radios they requested, and the last two I threw in.  I have no idea what might get used in the article.  They plan to edit the items onto their own background, so the photos were just "shelfies" shot on my white shelves.
Update:  Here's the page in the article that included two of my radios, and a poker chip caddy.  You can click or touch to make it readable.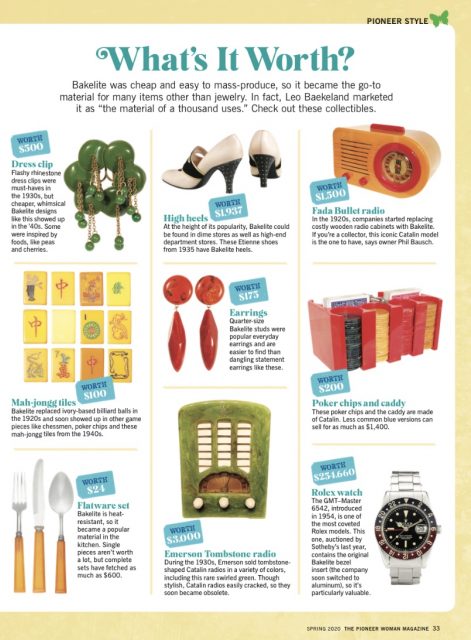 To clarify a few points:  Although Bakelite was used for radio parts in the 1920's, it was in the 1930's when radios with Bakelite cases joined wooden radios.  I suggested if Bakelite collectors only wanted one radio, the Fada Bullet is the most iconic design.  And, although Catalin radios are very breakable, the main reason they were discontinued was because of the man-hours needed to produce them.  Still, I appreciate that radios were included in the 4-page article about Bakelite.  The full issue is over 100 pages long.
Last year, it was nice of The Southern California Antique Radio Society to include one of my photos in their magazine.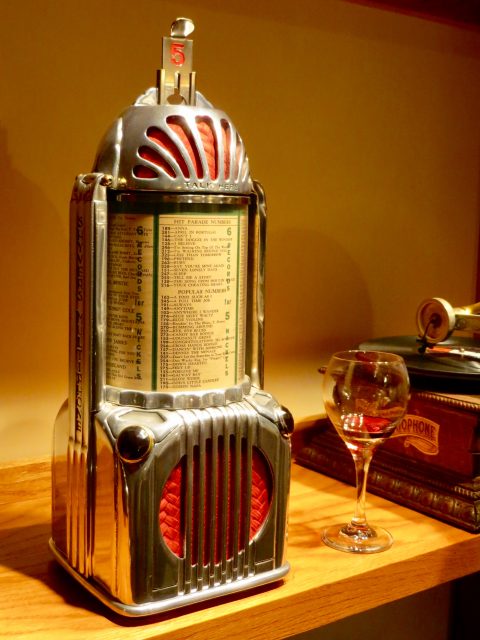 It was the above photo of the Shyvers Multiphone tabletop jukebox owned by friend and collector David O'Hanlon.  Below is what the magazine and article looked like.  You can read the main page of the article by clicking on the photo, and then zooming if necessary.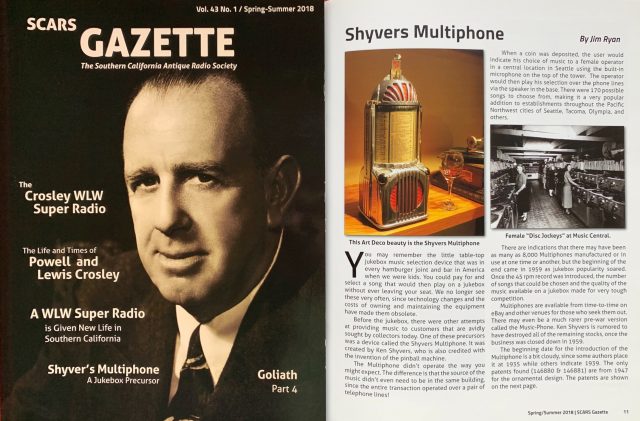 Since I've sold most of my radios, it wasn't too hard to also take photos of those that remain.  Here are some of them.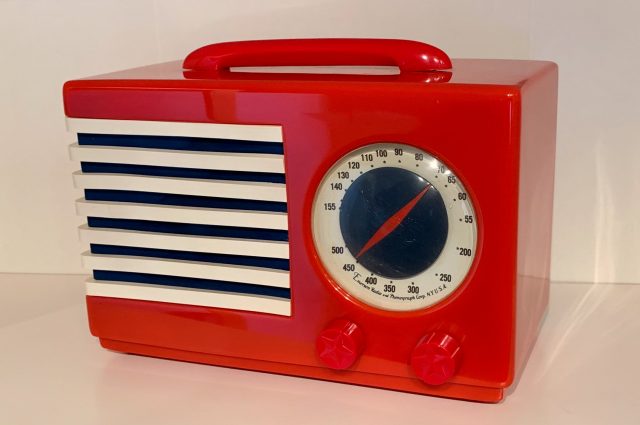 1940 Emerson "Patriot" Model 400 (Catalin)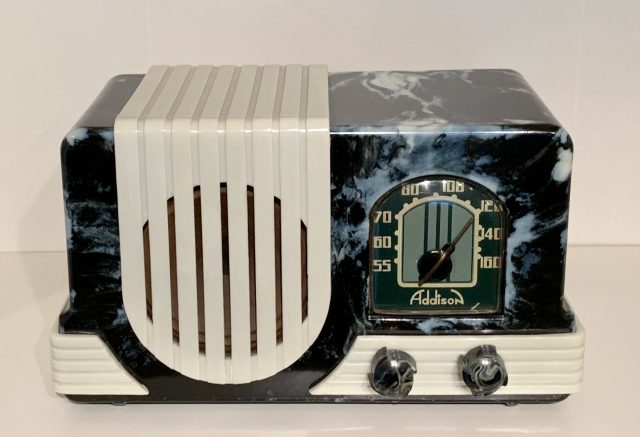 1940 Addison "Waterfall" Model A2 (Bakelite)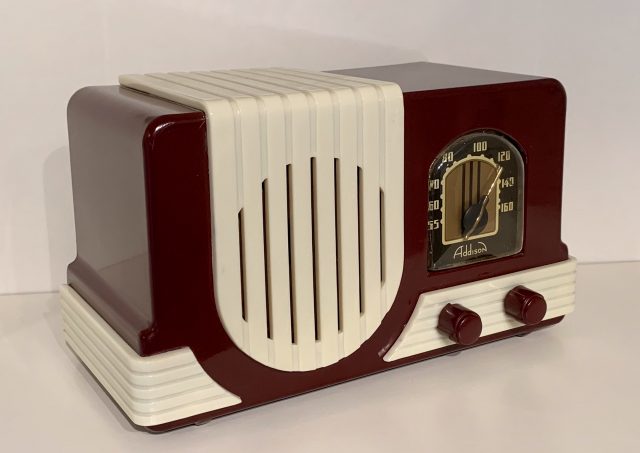 1940 Addison "Waterfall" Model A2 (Bakelite)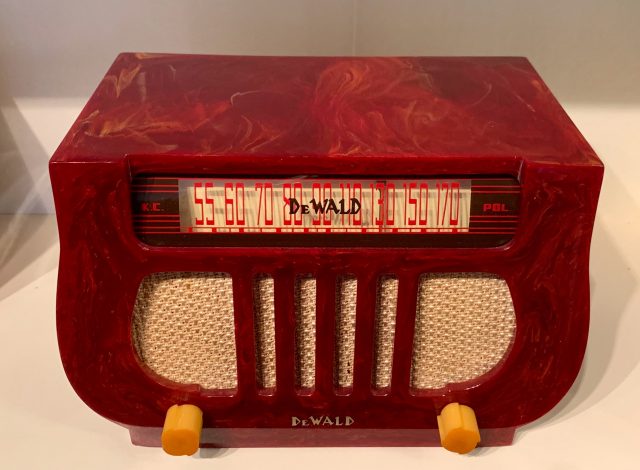 1938 DeWald "Harp" Model A501 (Catalin)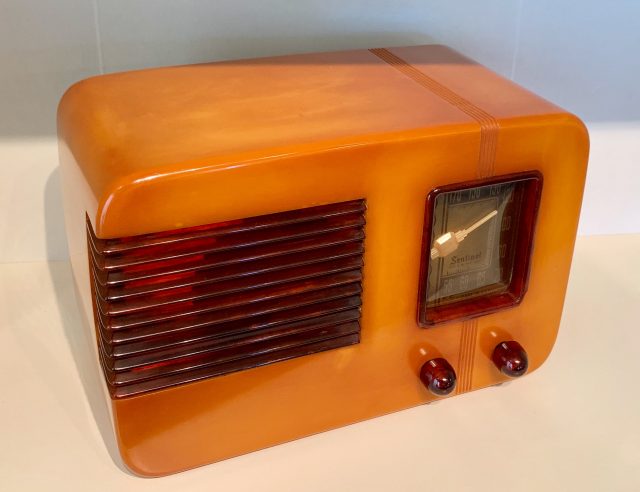 1939 Sentinel Model 248NI (177U) [Catalin]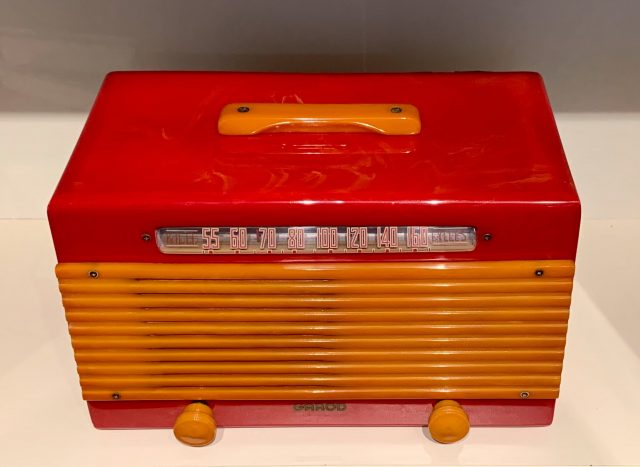 1945 Garod "Commander" Model 1B55L (Catalin)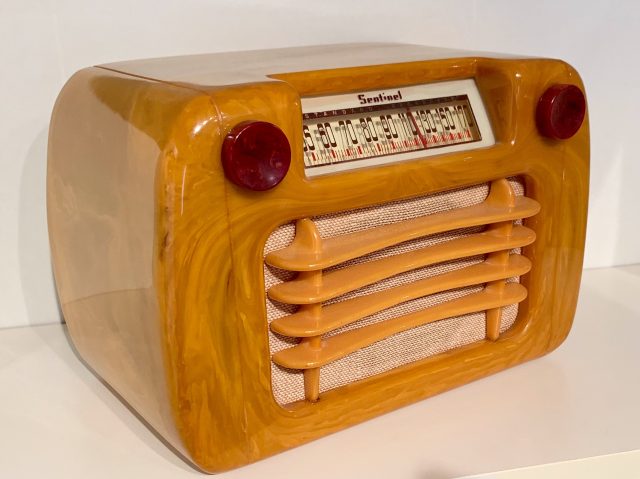 1945 Sentinel "Wavy Grille" Model 284 (Catalin)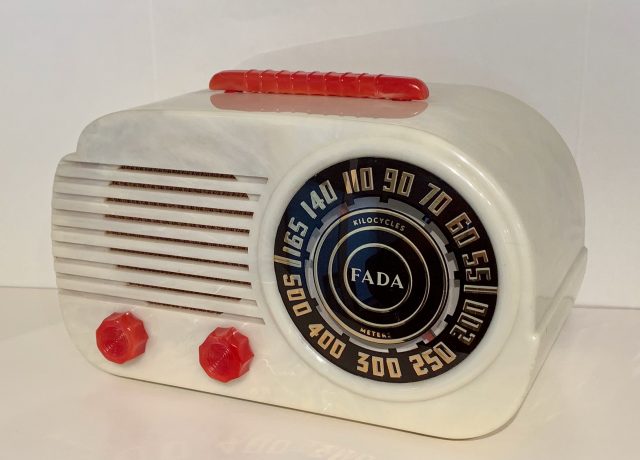 1947 Fada "Cloud" Model 845 (polystyrene plastic)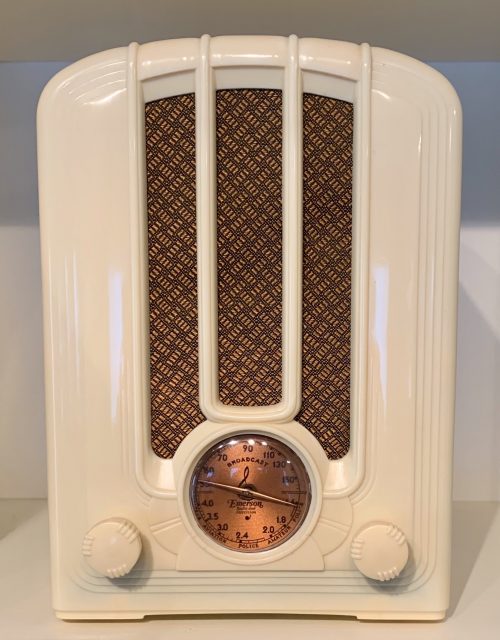 1936 Emerson "Tombstone" Model U5A (Plaskon)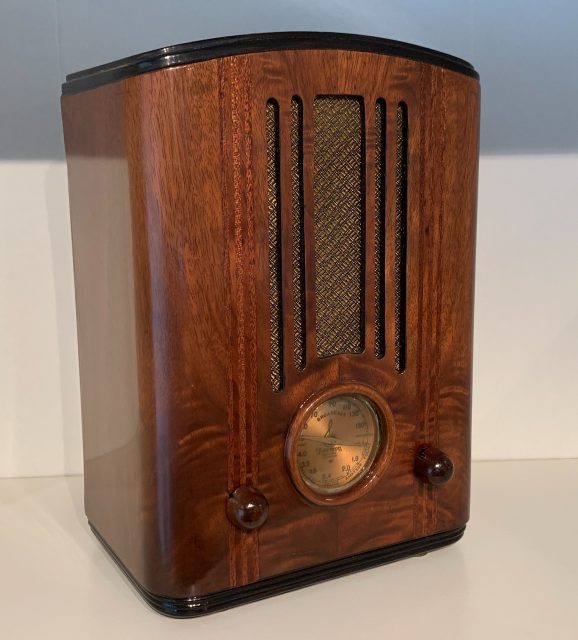 1936 Emerson "Tombstone" Model 110 (wood)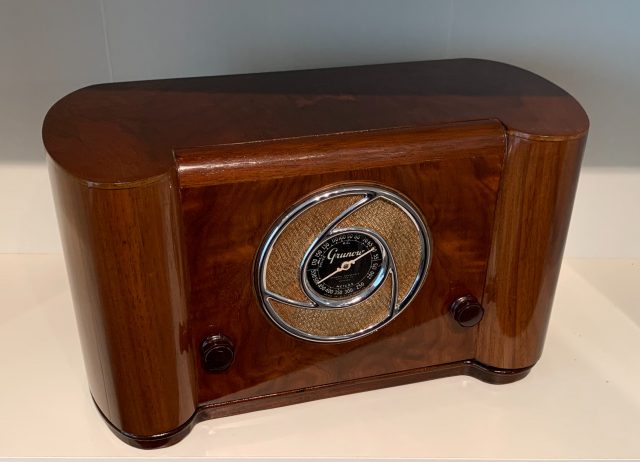 1938 Grunow "Chrome Grille" Model 592 (wood)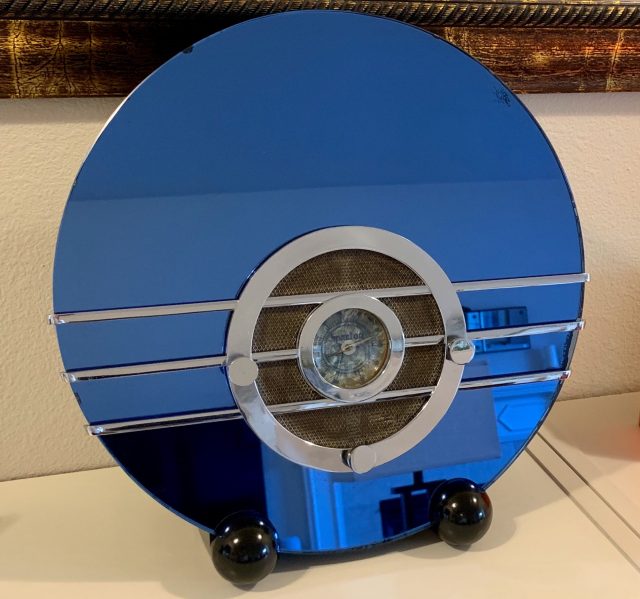 1936 Sparton Bluebird, added 2020.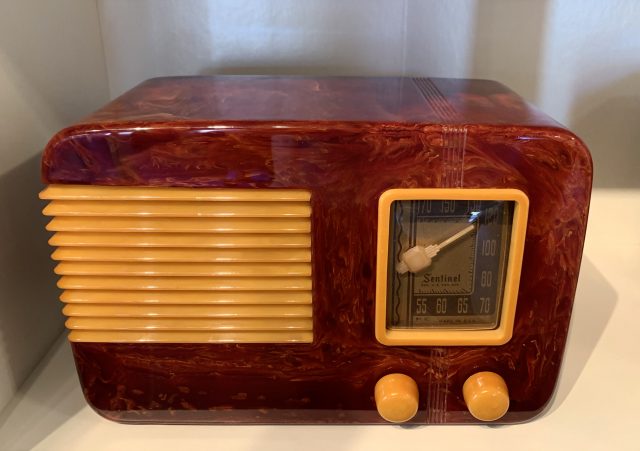 1939 Sentinel 248NR (177U) [Catalin] added 2020.
Many of these radios are featured with more information in the individual articles on this site.
Here's the main display in 2018 before the recent sell-off: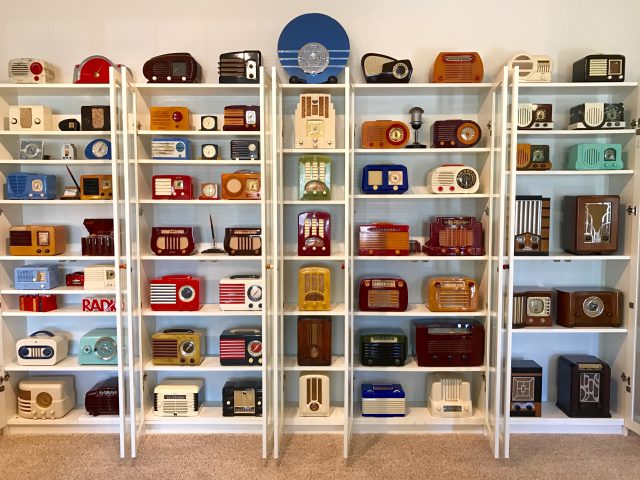 The time seemed right to greatly reduce my collection.  Hopefully, the new owners are enjoying the radios as much as I did.
Here's what's left (November 2020):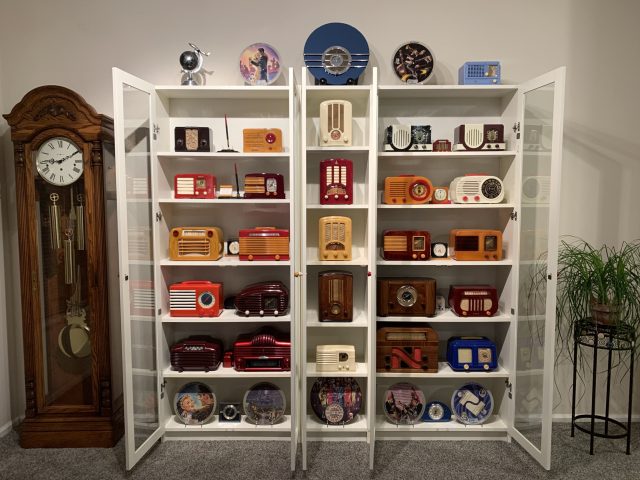 Extra:  Here's a screen shot of an article that was in the January, 2022 edition of Farm Show Magazine.  It's a newspaper style magazine from Minnesota that features articles on many topics, and this time they included collectible radios.  It was written by Dee George, from an interview.  (Click to enlarge.)