An Associate Editor of the Food Network Magazine recently called me about using some of my radios for an article.  Their Pioneer Woman magazine is featuring Bakelite and Catalin collectibles, and they requested photographs of some of my radios that are displayed on this site.  Photos can be made clearer and larger with a "click".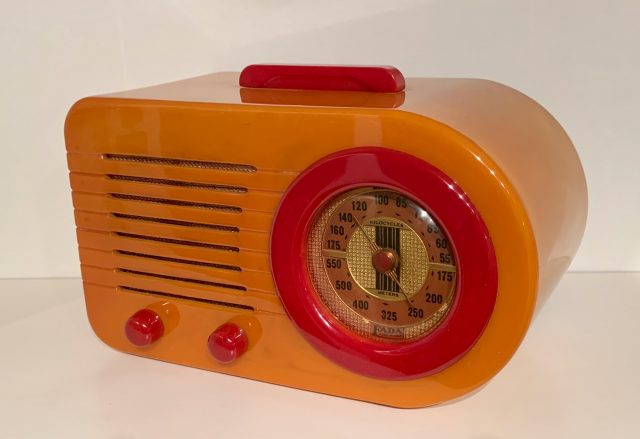 1940 Fada "Bullet" Model 115 (made of Catalin plastic)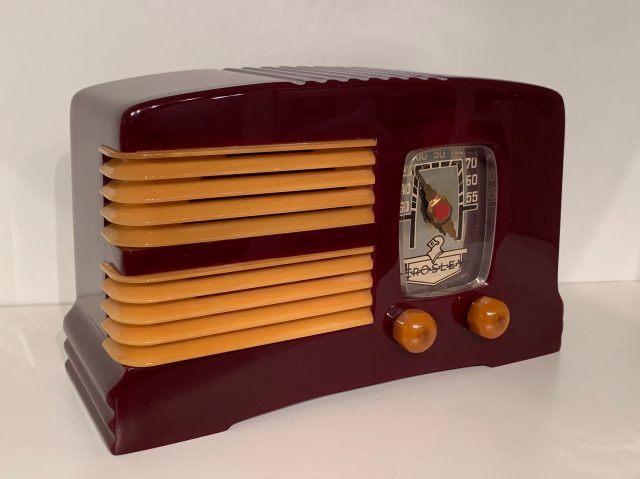 1938 Crosley "Split Grille" Model G1465 (Catalin)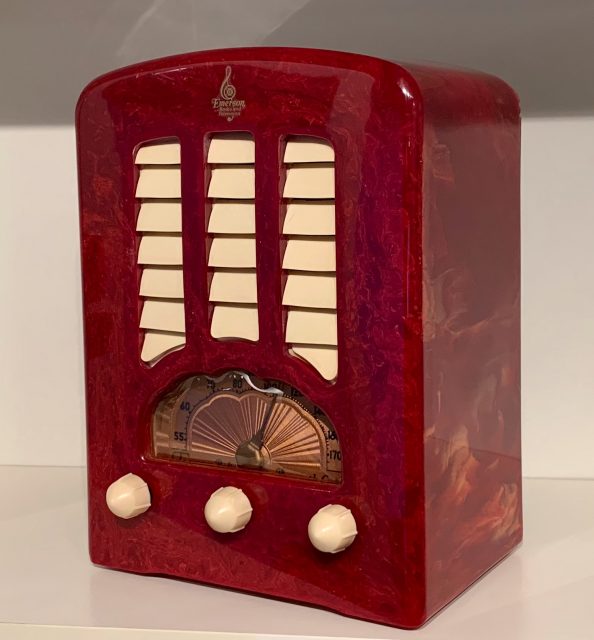 1938 Emerson "Tombstone" Model BT 245 (Catalin)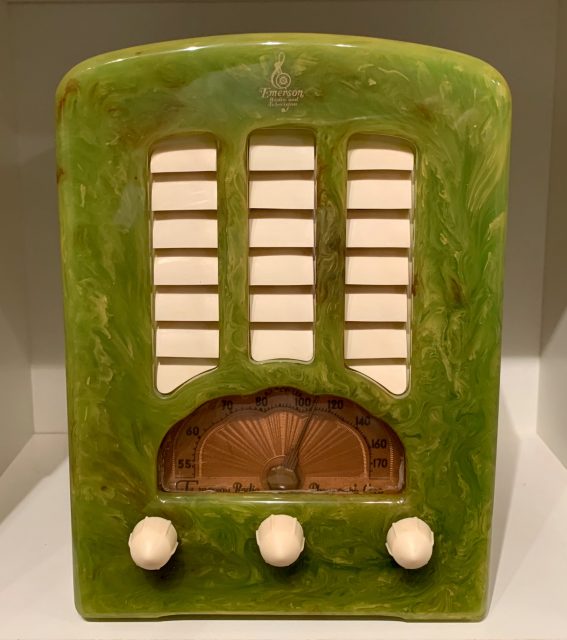 1938 Emerson "Tombstone" Model BT 245 (Catalin)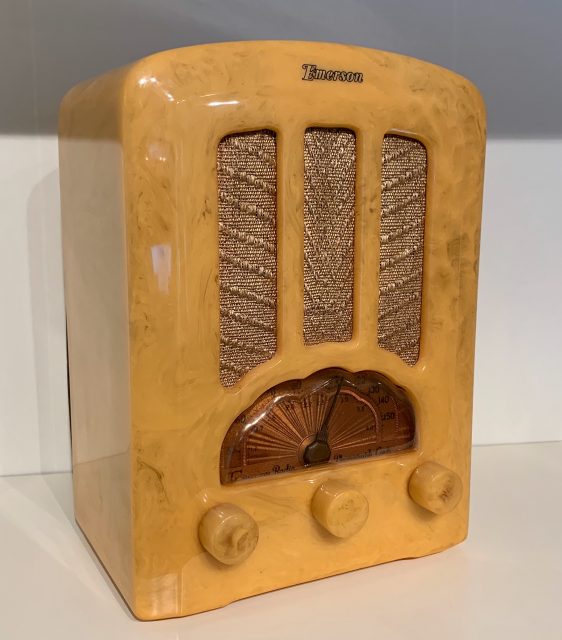 1937 Emerson "Tombstone" Model AU 190 (Catalin)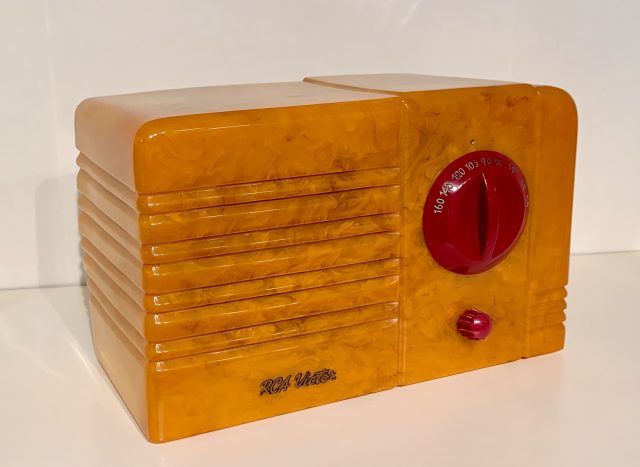 1939 RCA "Little Nipper" Model 9TX4 (Catalin)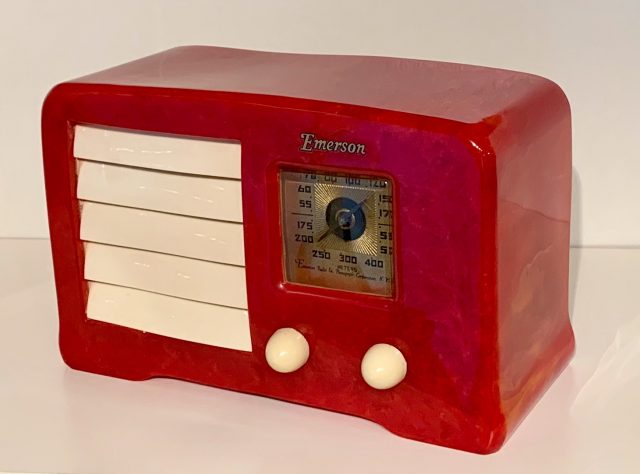 1938 Emerson "Little Miracle" Model AX235 (Catalin)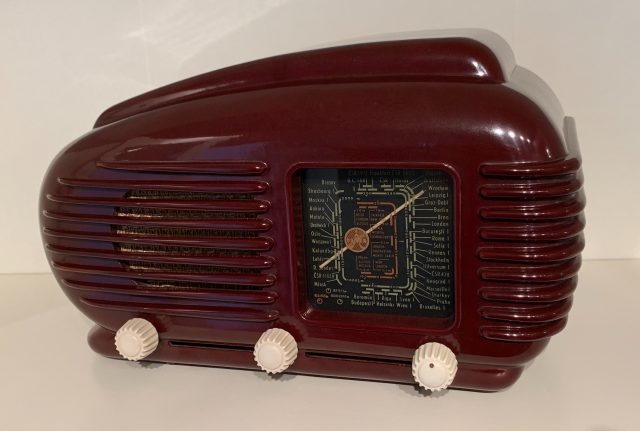 Tesla Talisman Model 308U (Bakelite, '40's design made in '50's)
Above are the radios they requested, and a couple I threw in.  I have no idea what might get used in the article.  They plan to edit the items onto their own background, so the photos were just "shelfies" shot on my white shelves.
Last year, it was nice of The Southern California Antique Radio Society to include one of my photos in their magazine.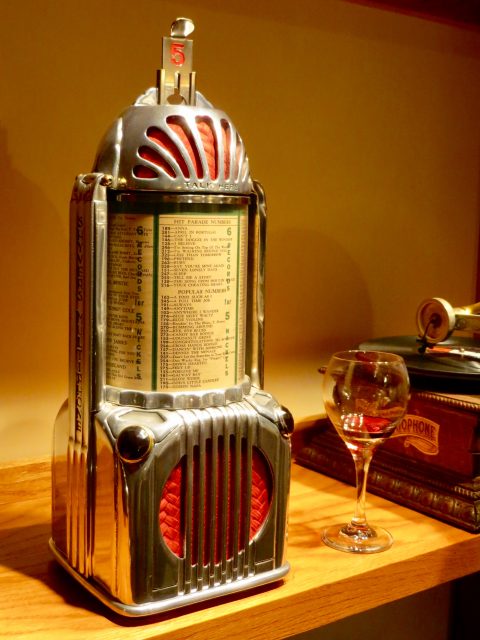 It was the above photo of the Shyvers Multiphone tabletop jukebox owned by friend and collector David O'Hanlon.  Below is what the magazine and article looked like.  You can read the main page of the article by clicking on the photo, and then zooming if necessary.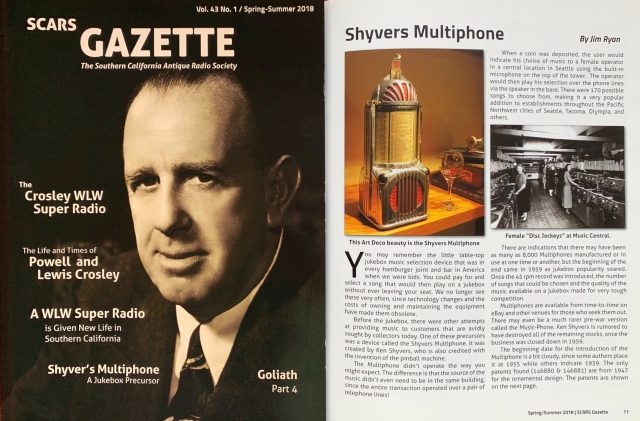 Since I've sold most of my radios, it wasn't too hard to also take photos of those that remain.  Here are some of them.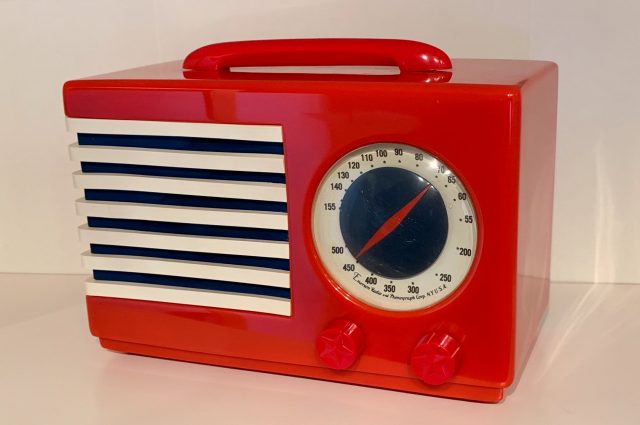 1940 Emerson "Patriot" Model 400 (Catalin)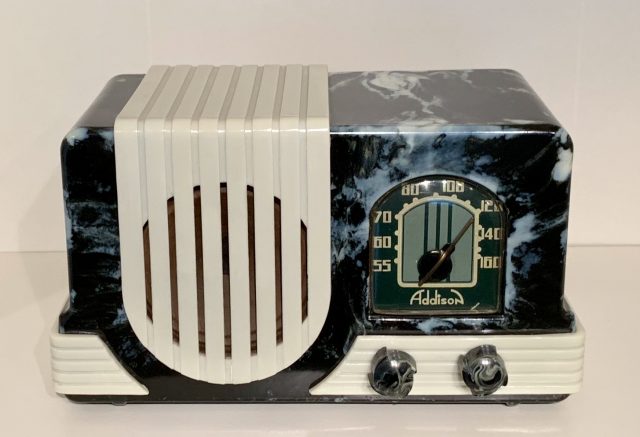 1940 Addison "Waterfall" Model A2 (Bakelite)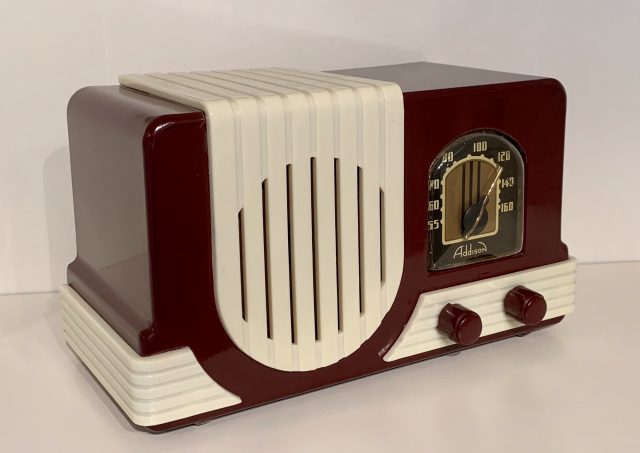 1940 Addison "Waterfall" Model A2 (Bakelite)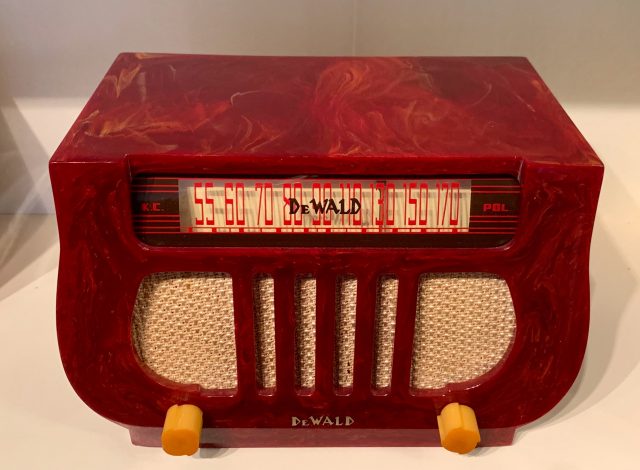 1938 DeWald "Harp" Model A501 (Catalin)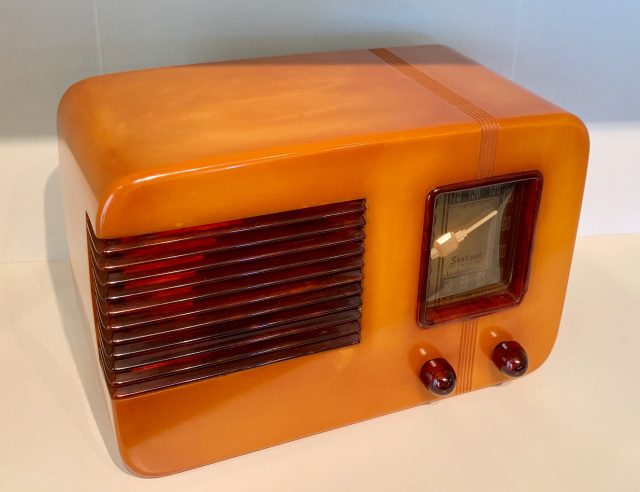 1939 Sentinel Model 248NI (177U) (Catalin)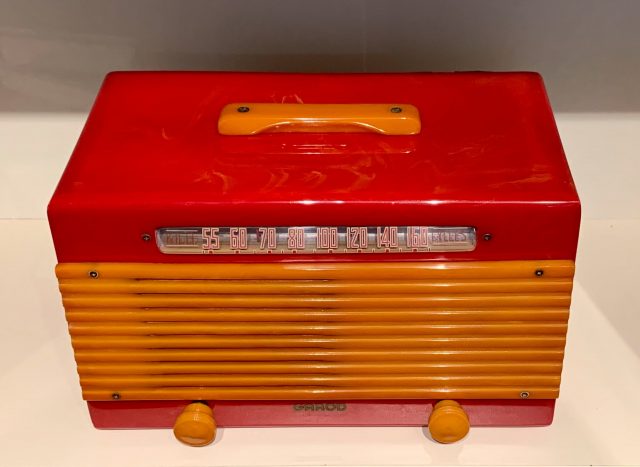 1945 Garod "Commander" Model 1B55L (Catalin)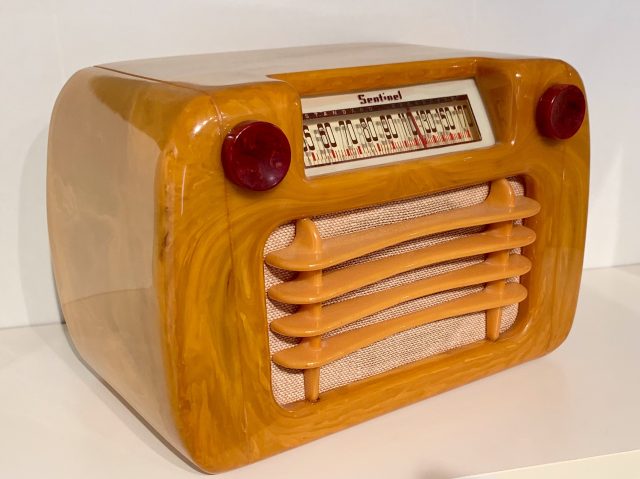 1945 Sentinel "Wavy Grille" Model 248 (Catalin)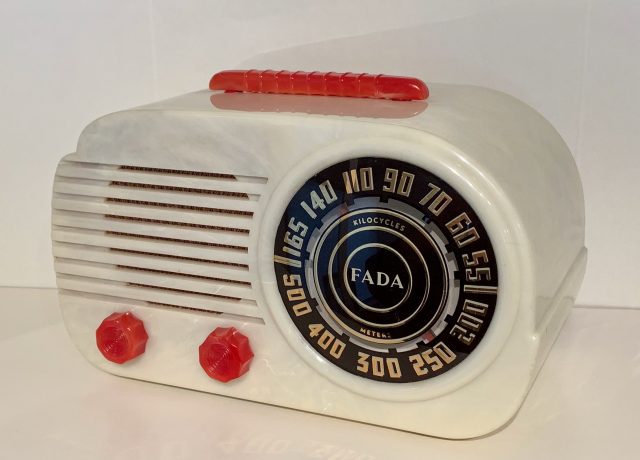 1947 Fada "Cloud" Model 845 (polystyrene plastic)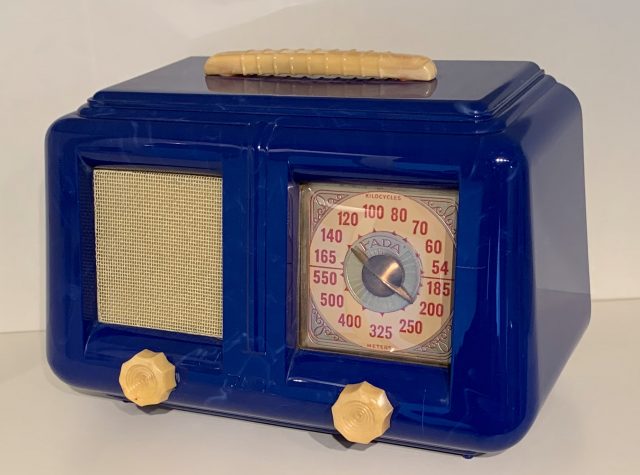 1947 Fada Model 1005 (polystyrene plastic)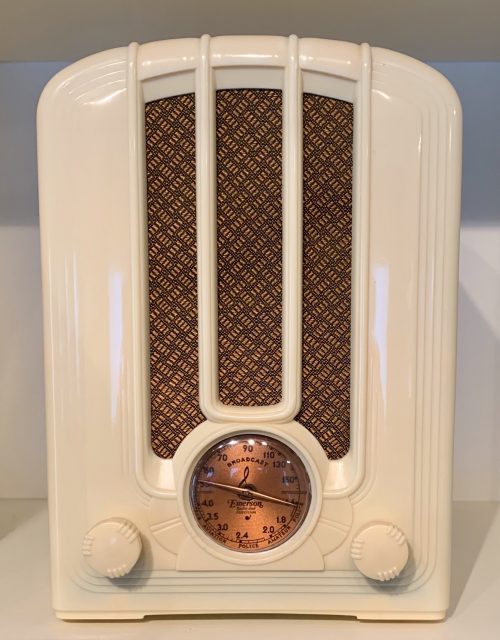 1936 Emerson "Tombstone" Model U5A (Plaskon)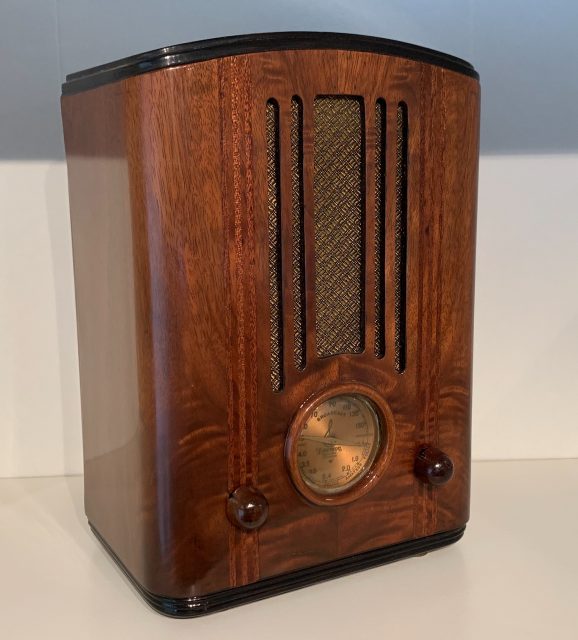 1936 Emerson "Tombstone" Model 110 (wood)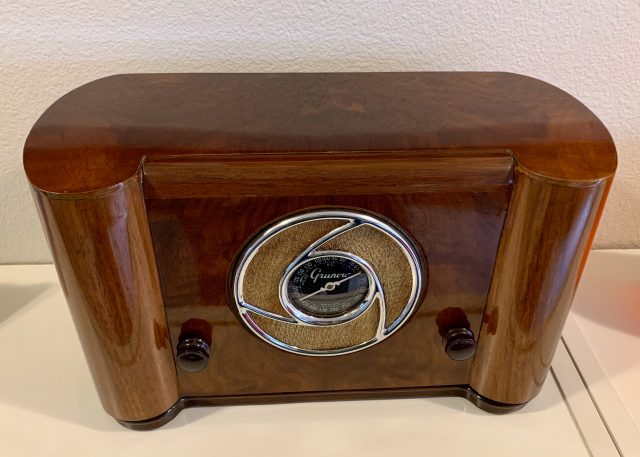 1938 Grunow "Chrome Grille" Model 592 (wood)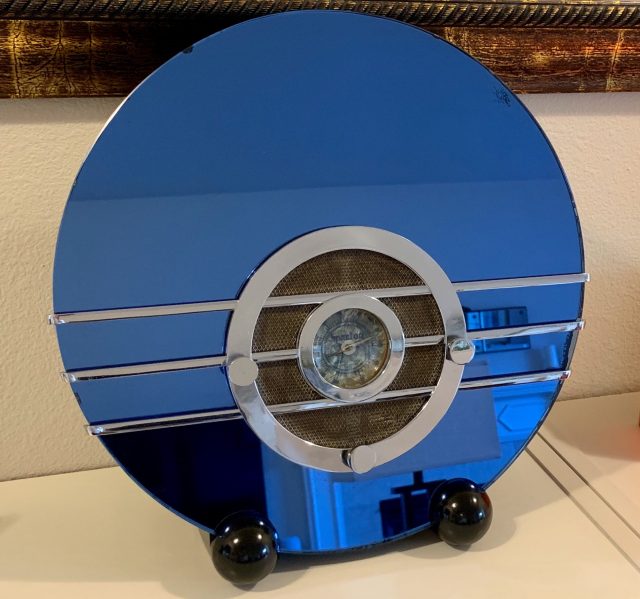 1936 Sparton Bluebird (added February 2020)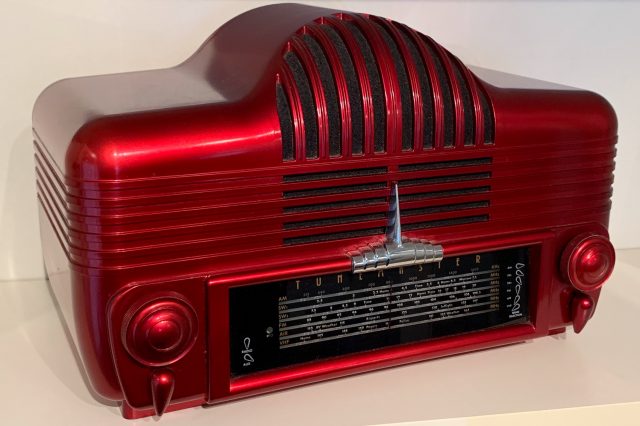 1947 Sonora Excellence Model 301 reproduction by Tunemaster
Many of these radios are featured with more information in the individual articles on this site.
Here's a shot of most of my remaining radios.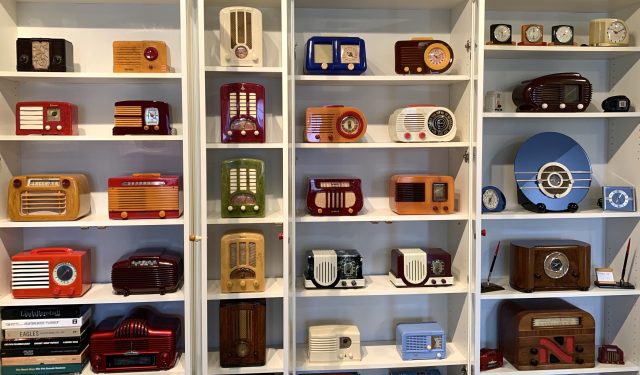 Like many collections, mine kept changing as I sold radios and upgraded to some rarer models.  At one time, I collected all kinds of radios…more wooden table radios & consoles, clock radios, portables, transistor models, and even some novelty radios.  The most I ever had at once was probably about 150 in Lincoln, NE, and about 100 here in Eugene, OR.  Of course by then I had decided to concentrate on Catalin, Bakelite, Plaskon, and other plastic tube radios.  Later, I added back in a few wooden models.  Here's what the main display looked like before the big sell-off (another 35 radios had been sold during the year leading up to this):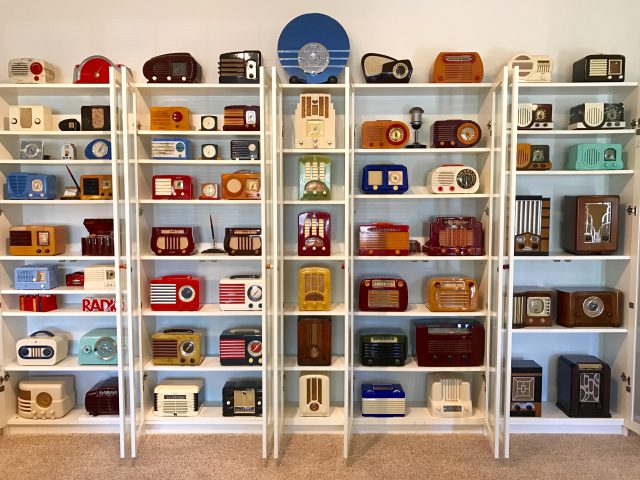 Unfortunately (or maybe fortunately), I've now sold many of my most collectible radios.  The time seemed right.
Hopefully, the new owners are enjoying the radios as much as I did.