It's one of the most dramatic radio designs ever!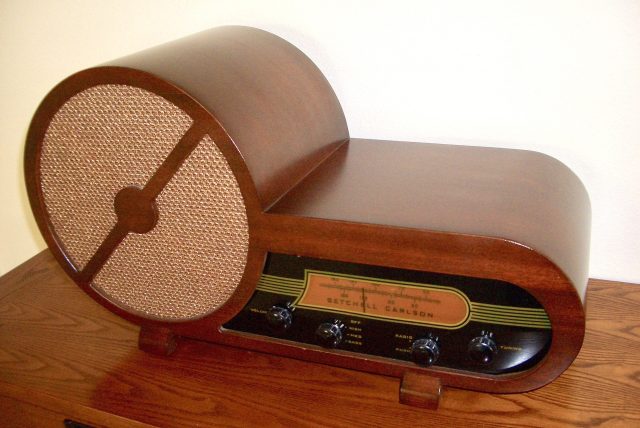 Maybe there were two designers, or maybe a designer and an audio engineer.  The designer said… "I'm designing a sleek, modern radio".  And the audio engineer said… "Yeah, but it's gotta have a big-ass speaker!".  That would explain the difference between the right and left sides of this radio.
The Setchell Carlson model 58A-375 "Jet" was originally manufactured in 1949.  Unlike most wooden radios, the case is not made of solid wood.  Instead, it's made of thin wood that could be bent into the desired shape.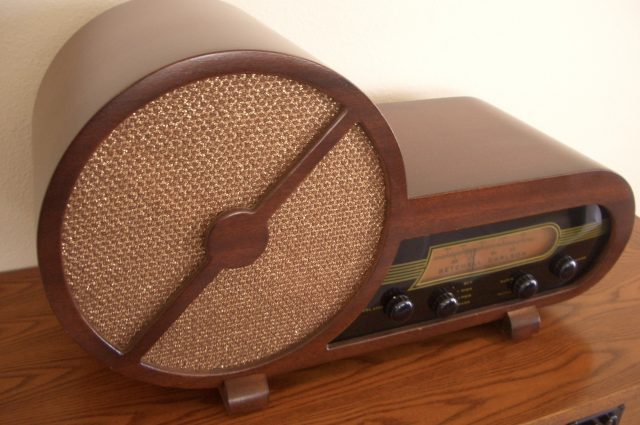 When I first got this radio, it was just a case.  In the 1990's and early 2000's, there was an annual "Radio Auction" in Marshalltown, Iowa.  It was a great place to find all kinds of radios.  One year, I found a brand-new old-stock Setchell Carlson Jet case.  It was still in it's original box with factory cardboard cutouts that suspended the case for shipping.  The Jet cases are very fragile, so I figured this was a replacement case from a radio dealership.  After all, the Setchell Carlson Company had been located right next door in Minnesota.
I was surprised and happy to get the case (with a perfect grille cloth installed) for just $100.  Eventually, I spotted a broken Jet on eBay.  Here's the actual listing photo: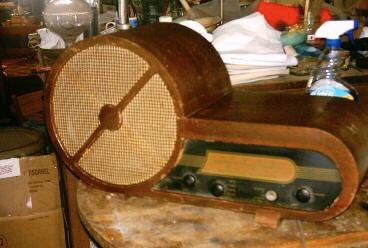 Pretty scary, right?  I won the bid for $200, and luckily the chassis and faceplate were in good shape.  With the help of radio collector/technician Jon Walker, the chassis was put into working condition, and an original knob was found.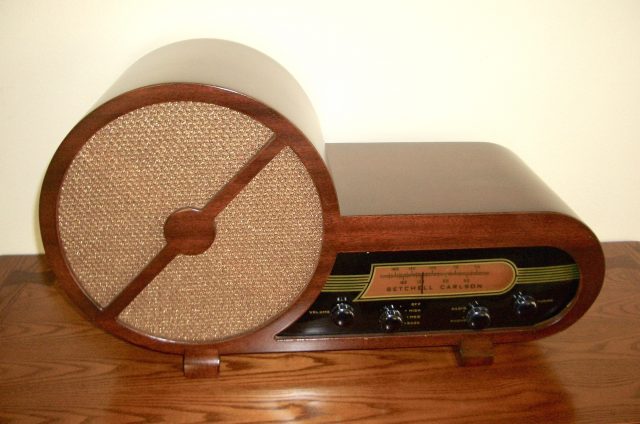 Then I installed the chassis, and finally it was a complete radio.
The Jet is a pretty large radio.  You can see how it compares in size with other radios as they were displayed in Lincoln, NE, and then Eugene, OR.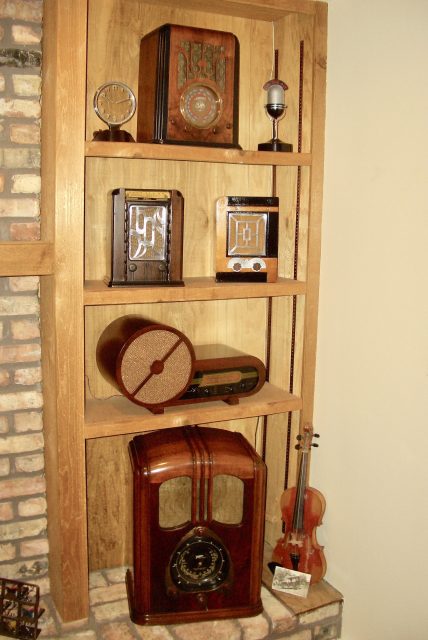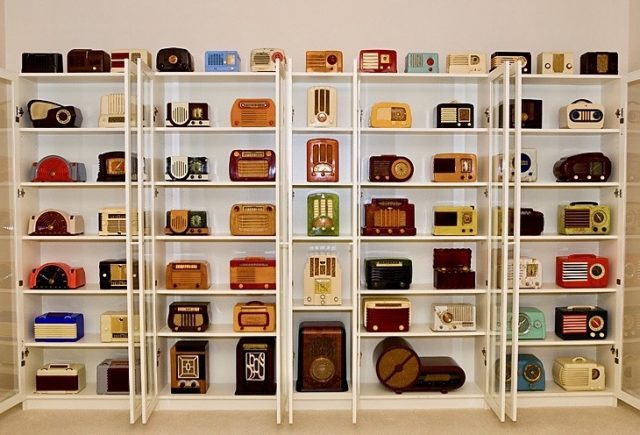 (Photos can be enlarged with a click or touch.)
Setchell Carlson also made the case in blonde wood to go with some Mid-Century furniture.  I found a photo of a blonde Jet online: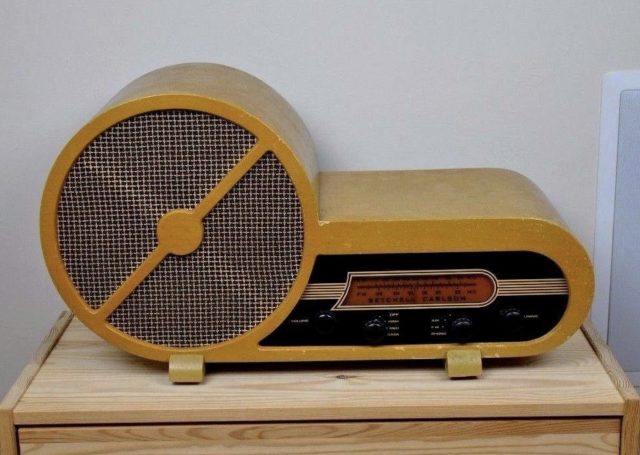 As production of the Jet moved into the 1950's, an AM-FM model became available.
Like I said, I believe many of the radios at the auction were from a Setchell Carlson dealer, because there were a lot of their radios that year.  I also bought this 1946 "Frog Eyes" model 427: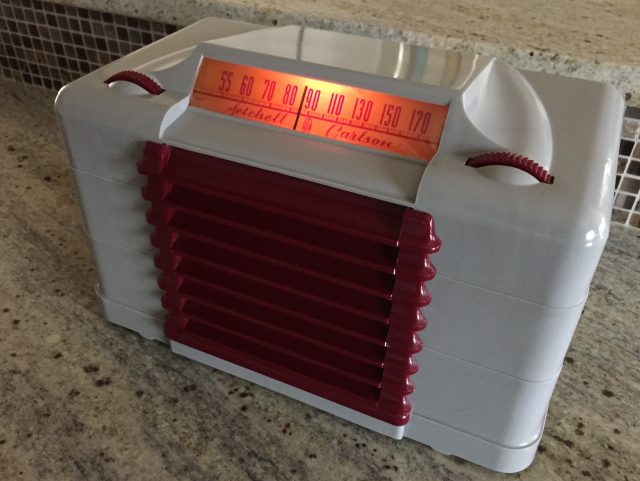 If you're familiar with "Frog Eyes", you'll know this is larger than the similarly styled 416 models that were also introduced in 1946.  It has a beautifully designed sweeping sculpture on the top that leads to the knobs.  The chassis is mounted upside down, which allows those controls to be at the top of the radio.  The case is made of colored Plaskon, and is not painted.  If you ever see a painted Setchell Carlson, it's not original.  I believe this radio was also new old stock, because there were absolutely no signs of use or wear.  It looked and played like new, and the original warranty tag was still inside.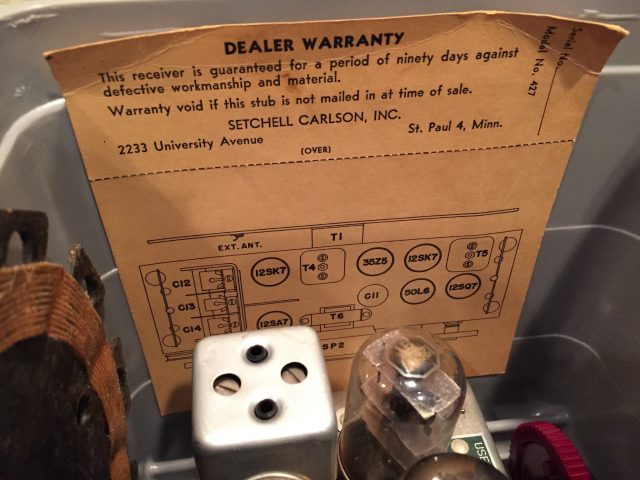 Another purchase I made that day was a new ivory Plaskon 416 case, still in the original box.  I already had a chassis for this one.
And finally, here's a page from the digital book at the beginning of this site.  It provides a comparison of colorful "Frog Eyes":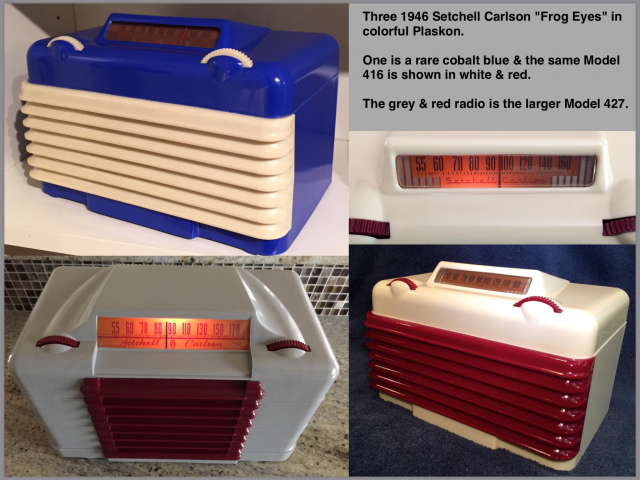 (Click or touch for a better look.)