It's a radio collectors dream…to find a rare & valuable radio at a garage sale.
So I'm checking eBay, and spot a new listing with this radio.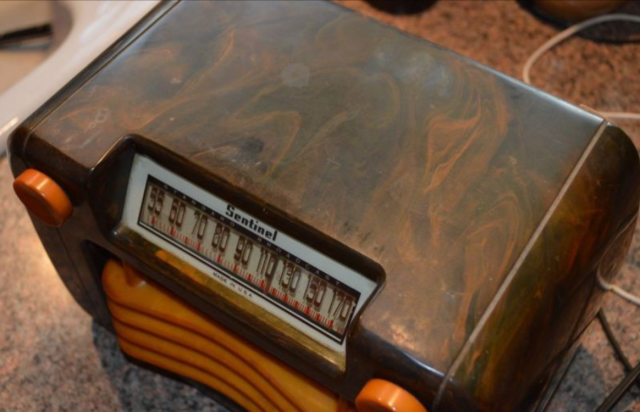 It's listed as a Catalin Sentinel 284-NR, and described as "brown"…no cracks or breaks.  The seller doesn't know the key thing.  Under that discolored surface…it's really blue.
The lucky find was made by a person who doesn't know or collect radios.  It wouldn't be right for someone to try to steal it by offering the seller an unfair amount.  So I quickly sent an email to the seller letting them know they had a very valuable radio, that it's blue, and that one like it sold for a huge sum at an auction in 2007.  With both sides now having the necessary information, there could be a fair negotiation.
I found out the seller was a very nice woman named Lori.  She said:  "I was in the garage of a hoarder house on the south side of Chicago.  It was sitting on a shelf, and I thought it looked cool, so I offered them $75".  Soon she was getting lots of emails with offers, she also got a laugh when I mentioned the grille was upside down.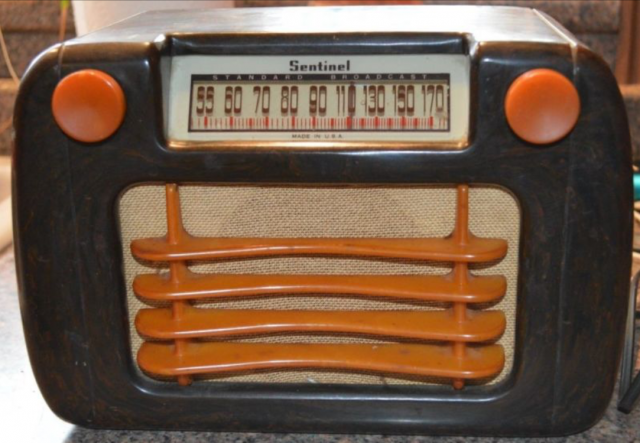 Eventually, Lori settled on a very solid offer of $12,000…not as high as the $30,000 paid at that 2007 auction, but it certainly was a dream for her to have a garage sale item be a true treasure.
The purchaser of the Sentinel was friend & collector Ron Stoner of South Carolina.  I learned a lot about radios from Ron when we both lived in Lincoln, Nebraska.  Ron sells a lot of radios, and he sold this one to another of my radio friends.
Hugh Hunt (and his wife Jane) bought it to add to their world class collection of Catalin radios.   They preferred that the Blue Sentinel be taken back to its original color.  Here's a shot of the radio I took when my wife and I visited Hugh & Jane in Nebraska.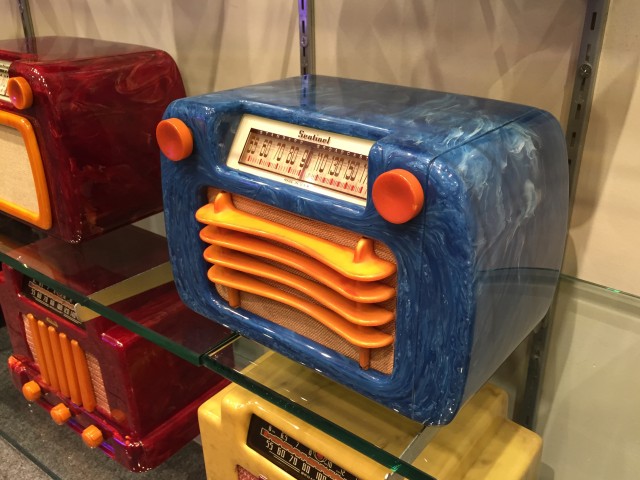 Here's the side-by-side comparison.  It hardly looks like the same radio.
Update, July 2021:  After reading this story three years ago, collector Vernon Shatwell set out to find another blue Sentinel, and he did it!  It's the open grille version, and he sent these photos.  Look at that swirl!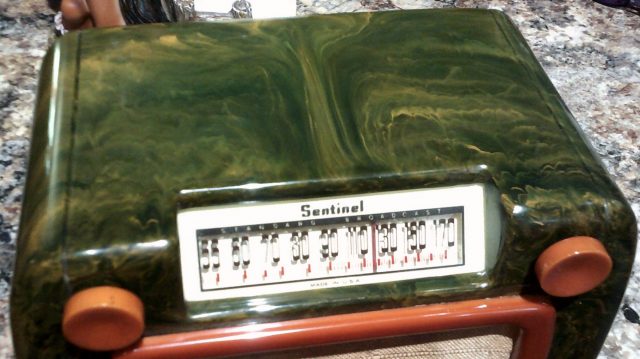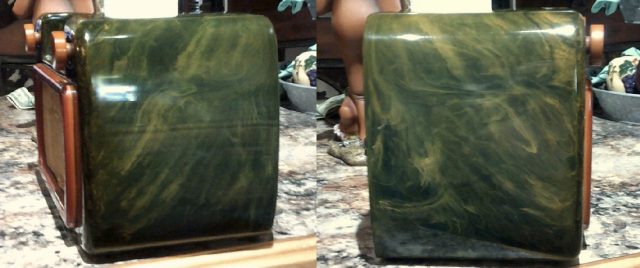 This radio looks beautiful without taking it all the way back to its original blue color.