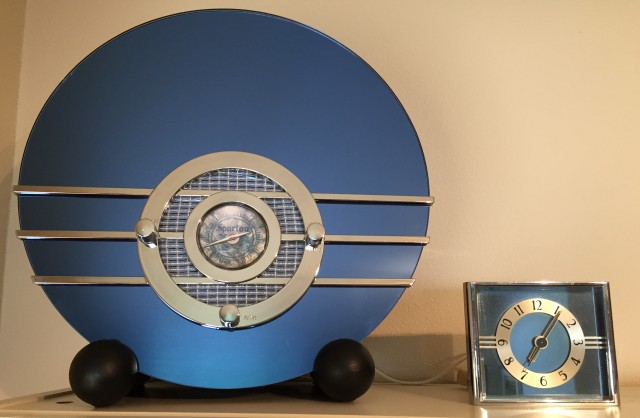 One of the most unique & beautiful radios is the Sparton Bluebird.  It was designed in the 1930's Deco age.  Bluebirds normally sell for about $2,500 to $5,000 depending on the condition.  In the late 1990's, the Thomas & Crosley companies sold reproductions of the Sparton Bluebird (obviously manufactured by the same company).  The major difference was they used 16-inch mirrors, instead of the approximately 14-inch mirrors used on the original.  They also used chrome feet instead of black, and the dial was not exactly like the original Bluebird, among many other variances.  However, the beauty of the design was all there.  In fact, despite the differences between the real & reproduction, the reproduction radio is as beautiful to view as the original.
Those reproductions are now hard to find…collectors don't want to part with them.  In April 2016, one sold on eBay for nearly $500.  Not bad for a reproduction.  Later, Crosley made a 14-inch version, but unfortunately it appears they kept the large chrome circle the same size, which made it too big proportionally, and then added their name boldly on the large circle as well.  They also made a mini 8-inch version.  Neither of those versions is very collectible, although they're still nicely reminiscent of the original design.
The above radio is one of the original 16-inch reproductions, with the feet painted black and a replicated dial.  The purpose isn't to fool anyone, it's to make it a more faithful reproduction.  A real Bluebird is shown here: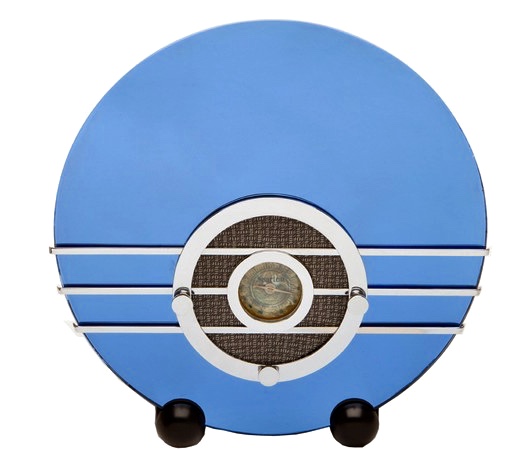 And here's another shot of the reproduction: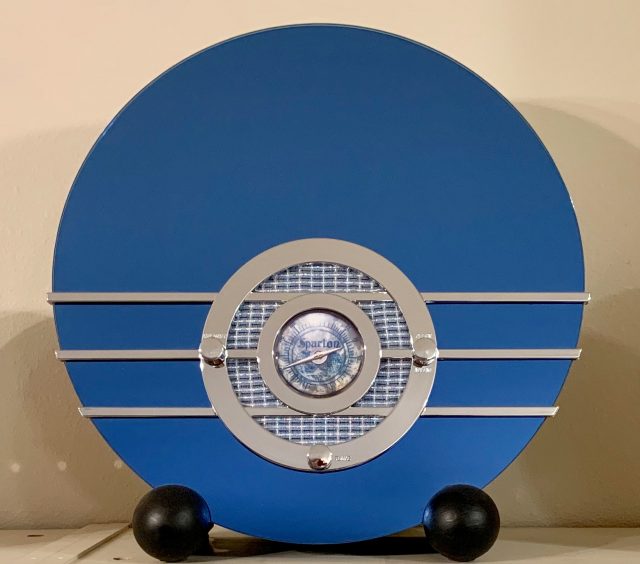 The real thing is always best, but the beauty of the original design can be found in a well-made reproduction.
The blue mirror on the original Sparton is like the case of a Catalin radio.  The wooden box that holds the chassis is simply utilitarian, and is normally hidden by the mirror.  So, if the original 1930's mirror breaks and is replaced by a new mirror, doesn't that make it a reproduction?  Certainly, if a Catalin case is replaced by something newer, the radio would not be considered original, even if the other parts were all original.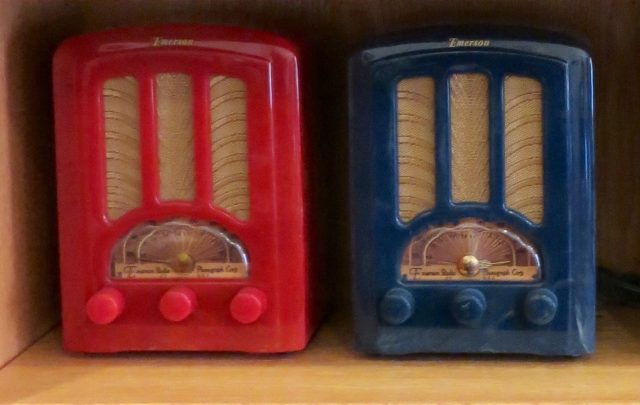 Here are two 1937 Emerson Tombstones.  Only they're not.  They're actually full size reproductions made by expert parts provider Kris Gimmy several years ago.  A Washington collector I know owns these two radios, and is very happy to have them mixed in with his original and expensive Catalin radios.
Update: Below is a radio that was made to look like a red Air King.  The chassis is original, but the red case is painted instead of colored Plaskon.  It sold for nearly $5,000!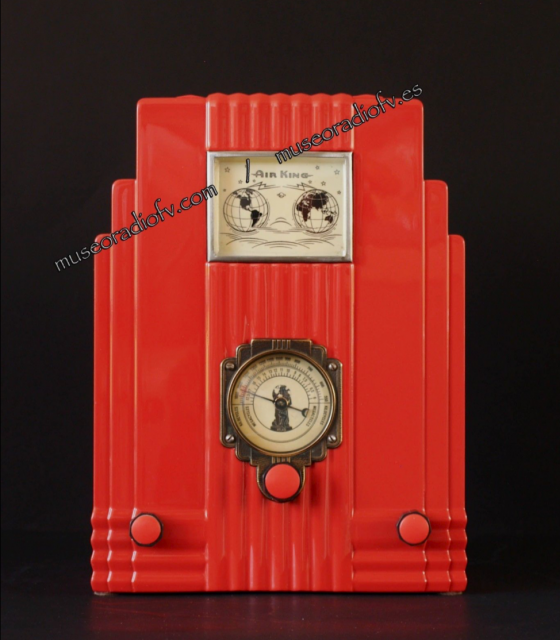 Update 2:  The below Crosley reproduction of a Sparton "Sled" went for nearly $800 in April, 2016.  Definitely not the normal price.