It's a radio collectors dream…to find a rare & valuable radio at a garage sale.
So I'm checking the radios on eBay, and a brand new listing pops up: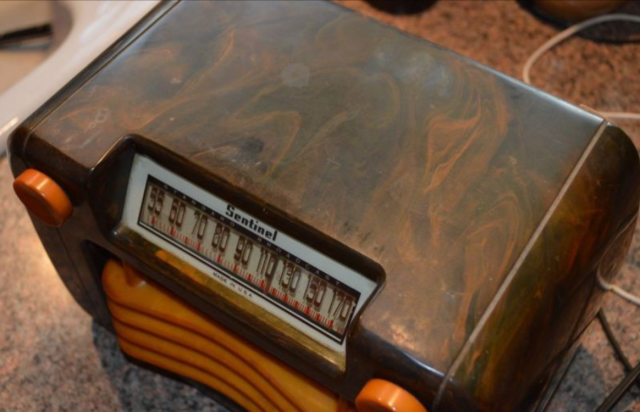 It's listed as a Catalin Sentinel 284-NR, and described as "brown"…no cracks or breaks.  The seller doesn't know the key thing.  Under that discolored surface…it's really blue.
The lucky find was made by a person who doesn't know or collect radios.  It wouldn't be right for someone to try to steal it by offering the seller an unfair amount.  So I quickly sent an email to the seller letting them know they had a very valuable radio, that it's blue, and that one like it sold for a huge sum at an auction in 2007.  With both sides now having the necessary information, there could be a fair negotiation.
I found out the seller was a very nice woman named Lori.  She said:  "I was in the garage of a hoarder house on the south side of Chicago".  "It was sitting on a shelf, and I thought it looked cool, so I offered them $75".  Soon she was getting lots of emails with offers, she also got a laugh when I mentioned the grille was upside down.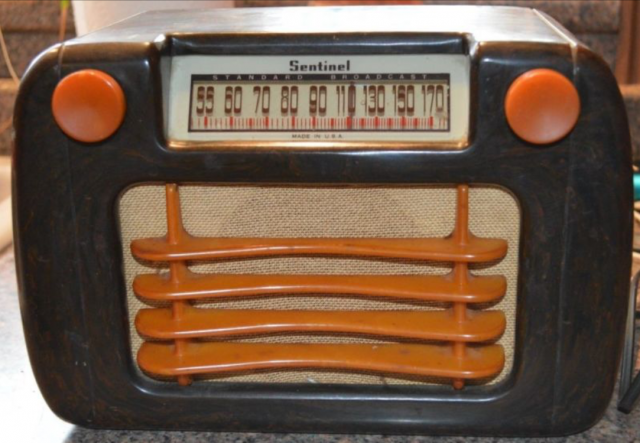 Eventually, Lori settled on a very solid offer of $12,000…not as high as the $30,000 paid at that 2007 auction, but it certainly was a dream for her to have a garage sale item be a true treasure.  Now we need to see the Sentinel when it's taken back to it's beautiful swirled blue.
Update:  Found out the Sentinel was purchased by friend & collector Ron Stoner of South Carolina.  Ron taught me a lot about radios when we both lived in Lincoln, Nebraska.  He says he plans to only lightly clean the radio, rather than taking it back to it's bright blue color, because some collectors prefer their radios untouched…and of course…someday he'll be selling it.
Update 2:  Found out another friend & collector eventually bought it, and he preferred that the Blue Sentinel be taken back to its original color: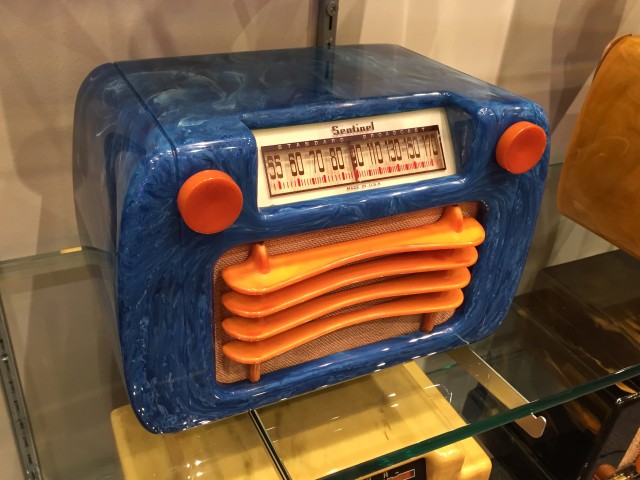 The owner is Hugh Hunt.  Hugh & his wife Jane have what looks to be the best Catalin collection in the world.  Plus, they have many other rare non-Catalin radios.  You can see their radios at www.goldenhue.net.
Thank you to Lori, Ron & Hugh for letting me tell their story.  So glad we get to see the radio case in all it's original blue glory!